Windows on Nature: The Great Habitat Dioramas of the American Museum of Natural History
Stephen Christopher Quinn
Harry N. Abrams: $40 0810959402
|
ISBN: 0-810-95940-2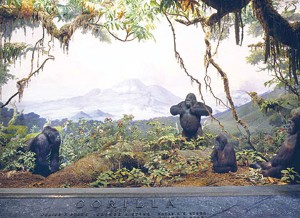 Dazzling the millions who troop past, the habitat dioramas of New York's American Museum of Natural History, including this gorilla showcase, have fused science and art into hyper-real three-dimensional displays of animals in their native savannah, swamp or plain. Windows on Nature: The Great Habitat Dioramas of the American Museum of Natural History by Stephen Christopher Quinn (Harry N. Abrams, $40) takes a behind-the-scenes look at more than 40 of them, each a testament to the explorers, naturalists, taxidermists and artists who painstakingly brought them to life more than half a century ago. This heroic task — it took 18 years to complete the 29 dioramas of the North American mammal section alone — inspired a number of conservation measures, as well as considerable awe.
Rights and permissions
To obtain permission to re-use content from this article visit RightsLink.
Comments
By submitting a comment you agree to abide by our Terms and Community Guidelines. If you find something abusive or that does not comply with our terms or guidelines please flag it as inappropriate.