Eastern Germany is landing major electronics industry investments — but needs to build up its own innovative capacity, reports Ned Stafford.
Back in December 2000, when business leaders in the German state of Saxony founded an organization to boost their developing electronics industry, they chose to aim high. They christened it Silicon Saxony, after California's Silicon Valley — the high-tech champion of the world.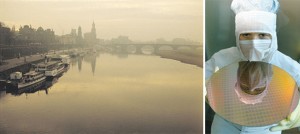 Nearly five and half years later, Silicon Saxony's boosters are still talking big. Helga Pratap, microelectronics expert at the State of Saxony's Economic Development Corporation, says the state's capital city of Dresden and surrounding area is now the address of choice for global firms expanding in Europe. "We are, by far, the most interesting cluster in microelectronics in Europe," she says.
Until a few weeks ago, sceptical observers might have dismissed Pratap's exuberance. But on 29 May, California-based chip maker AMD gave Dresden a huge stamp of approval, announcing that it would invest an additional US$2.5 billion over the coming three years to expand production there. The investment will add about 420 new jobs to AMD's current workforce of 2,800, and bring its total investment to a spectacular $8 billion since it first opened shop in Dresden in 1996.
Silicon Saxony now has 204 member companies employing 17,000 people, and generating estimated annual sales worth €3 billion (US$3.8 billion). In addition to AMD, other large firms in the region include semiconductor maker Infineon Technologies, which was spun off from Siemens in 1999 and employs 5,500 people there, and Texas lithography company Toppan Photomasks.
"We have achieved critical mass in Saxony," claims Peter Kücher, director of the Fraunhofer Center of Nanoelectronic Technology (CNT), a Dresden-based branch of the German network of applied research institutes known as Fraunhofer centres.
But Dietmar Edler of Berlin's German Institute for Economic Research says that unlike Silicon Valley, where venture capital plays an important role, most investment in Dresden is coming from just two big private companies — AMD and Infineon — and from government subsidies. "If you think it is necessary to go beyond production technology into creating new ideas and concepts," he says, "then more venture capital would be necessary."
Nonetheless, Edler says, the region has progressed rapidly over the past decade. AMD and Infineon started with only factories, but have since added strong research and development capability, while the state and federal governments have encouraged and funded research at private and public institutions. "It is important to bind investors to the location and this has been done in Saxony in a step-by-step process," he says.
The Fraunhofer CNT is one of many public research laboratories in the region working closely with business to advance the technology behind microelectronics and the manufacturing process. The CNT — founded last year with the backing of Fraunhofer, Infineon, AMD, the federal government and Saxony — is housed at one of Infineon's factories. The state has plenty of other research activity at seven universities, 12 Fraunhofer centres and six Max Planck Institutes doing basic science.
Daryl Ostrander, AMD's US-based vice-president of manufacturing, says that Dresden offers "world-class engineering" as well as an "economically friendly" environment. AMD, he says, utilizes "the considerable resources of the Fraunhofer and Max-Planck Institutes".
At first glance, Saxony might seem an unlikely home for an electronics cluster. Until the collapse of the Eastern Bloc in 1989, it was part of the old East Germany, and had no direct access to technologies developed in the West. The state currently has an unemployment rate of 17%, and an aggressive subsidy programme to lure investments such as AMD's.
Ulrich Schlicht, head of business development at the state's economics ministry, won't say how much of the $2.5-billion investment was paid for by such subsidies. But he says that since 1990, the state has made grants of €1.1 billion to companies, supporting total investments worth almost €10 billion.
The state government has also spent about €300 million on electronics research programmes over the past 15 years, contributing, for example, to the Fraunhofer CNT.
Gerit Vogt of the Dresden office of the Munich-based Ifo Institute for Economic Research says that the links between local innovation and new chip factories are developing well in Saxony. Subsidies were needed to secure the initial investment, in his view. As a result, "there is more wealth, more income, more jobs," he says. "This is a story of success and I think it is a durable success."
Related links
Related links
Related external links
About this article
Cite this article
Angling Saxons. Nature 441, 931 (2006). https://doi.org/10.1038/441931a
Published:

Issue Date:

DOI: https://doi.org/10.1038/441931a