History is brought to life at Benjamin Franklin's house in London.
Arguably the most famous American in the Age of the Enlightenment, Benjamin Franklin achieved scientific fame by flying a silk kite with a wire rod at one end and a key at the other into a thunderstorm in Philadelphia in 1752. He thus demonstrated that lightning consists of flashes of electricity.
During his long life, Franklin made many contributions to several branches of science. He found research a welcome respite from his role negotiating the turbulent complexities of contemporary diplomacy, including the repeal of stamp duty, which the British parliament had imposed on its American colonies in 1765.
This year marks the 300th anniversary of Franklin's birth, the cue for activities around the world (see http://www.benfranklin300.org). It has been celebrated in London by the public opening of the 1730s Georgian townhouse, at 36 Craven Street, where he lived for 16 years as an agent for the Pennsylvania Assembly. The newly restored house serves as a museum and education centre (see http://www.benjaminfranklinhouse.org).
During his years in London, Franklin invented bifocal spectacles; developed a fuel-efficient fireplace draught called the Franklin stove; installed a new, more effective lightning rod on the dome of St Paul's Cathedral; and invented the glass armonica (or harmonica), with its haunting sound described as "the voice of angels". He worked with Joseph Priestley on experiments that led to the discovery of oxygen; recorded the effects of the Gulf Stream and other ocean currents; investigated canal depths and their implication for transport; and demonstrated the veracity of the old adage that oil calms troubled water, on a windswept pond in the London suburb of Clapham. Some of these achievements are recreated as hands-on experiments for school children at the centre as an introduction to scientific methodology.
During the recent restoration of the house, some 1,200 human bones were found in the basement. They were identified as remains from an anatomy school founded at the house by William Hewson, a British anatomist who identified the role of fibrinogen in 1770 and gave the first valid account of coagulation. Hewson lived at the house from 1770 to 1774 after he married Polly Stevenson, the daughter of Franklin's landlady. The medical-history room in the science study centre continues this tradition with ingenious models and touch-screen computers to encourage schoolchildren to think about how the human body works.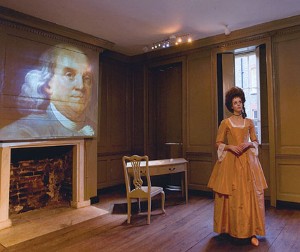 Tour de force? Polly acts as guide in Franklin's London home.
Credit: M. DE GUZMAN
The house is interpreted for visitors in an evocative 'museum as theatre' tour, which incorporates state-of-the art audiovisual display techniques and an actress in eighteenth-century dress who plays the role of Polly (see picture). Polly's interest in Franklin's diplomacy and science made her one of his closest confidantes. "After writing six folio pages of scientific philosophy to a young girl, is it necessary to finish such a letter with a compliment?" asks Franklin during an audiovisual presentation. "Is not such a letter of itself a compliment?"
Despite his skilled diplomacy, and his satirical Rules By Which a Great Empire May be Reduced to a Small One, written in 1773 to warn the intransigent British of the dangers of taking a hard line against hot-headed American colonists, Franklin failed to avert the War of Independence. In 1775, he hurriedly left Craven Street. By the time he had returned to Philadelphia, the American Revolution had begun. He died in 1790 at Passy near Paris, with Polly and Franklin's own daughter Sally at his bedside.
Rights and permissions
To obtain permission to re-use content from this article visit RightsLink.
Comments
By submitting a comment you agree to abide by our Terms and Community Guidelines. If you find something abusive or that does not comply with our terms or guidelines please flag it as inappropriate.