Underwater backswimmers use their haemoglobin to help them stay stationary while waiting for prey.
Abstract
Backswimmers (Notonectidae) are common diving insects found around the world that exploit the mid-water zone for predation — they breathe by using an air bubble collected at the surface. Here we show that backswimmers achieve prolonged periods of neutral buoyancy by using oxygen stored in their haemoglobin to stabilize the volume of the bubble as they breathe from it. This enables them to maintain their position in the water column without continually swimming.
Access options
Subscribe to Journal
Get full journal access for 1 year
$199.00
only $3.83 per issue
All prices are NET prices.
VAT will be added later in the checkout.
Rent or Buy article
Get time limited or full article access on ReadCube.
from$8.99
All prices are NET prices.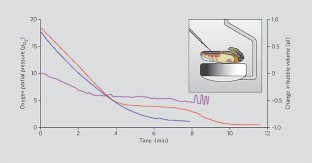 References
1

Ege, R. Z. Allg. Physiol. 17, 81–125 (1915).

2

Thorpe, W. H. & Crisp, D. J. J. Exp. Biol. 24, 227–269 (1947).

3

Miller, P. L. J. Exp. Biol. 44, 529–543 (1966).

4

Bare, C. O. Univ. Kansas Sci. Bull. 18, 265–349 (1929).

5

Miller, P. L. Nature 201, 1052 (1964).

6

Wells, R. M. G., Hudson, M. J. & Brittain, T. J. Comp. Physiol. 142, 515–522 (1981).
Ethics declarations
Competing interests
The authors declare no competing financial interests.
Supplementary information
About this article
Cite this article
Matthews, P., Seymour, R. Diving insects boost their buoyancy bubbles. Nature 441, 171 (2006). https://doi.org/10.1038/441171a
Received:

Accepted:

Published:

Issue Date:
Comments
By submitting a comment you agree to abide by our Terms and Community Guidelines. If you find something abusive or that does not comply with our terms or guidelines please flag it as inappropriate.