Vega is a fundamental reference star for astronomers. But it seems that our perceptions of it have been misconceived — rather than spinning slowly, the star is a rapid rotator seen pole-on.
Access options
Subscribe to Journal
Get full journal access for 1 year
$199.00
only $3.90 per issue
All prices are NET prices.
VAT will be added later in the checkout.
Tax calculation will be finalised during checkout.
Buy article
Get time limited or full article access on ReadCube.
$32.00
All prices are NET prices.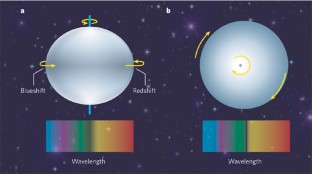 References
Peterson, D. M. et al. Nature 440, 896–899 (2006).

Petrie, R. M. Publ. Dominion Astrophys. Obs. Victoria 12, 317–338 (1964).

Hanbury Brown, R., Davis, J., Allen, L. R. & Rome, J. M. Mon. Not. R. Astron. Soc. 137, 393 (1967).

Collins, G. W. III & Sonneborn, G. H. Astrophys. J. Suppl. Ser. 34, 41–94 (1977).

Gray, R. O. J. R. Astron. Soc. Can. 82, 336–348 (1988).

Gulliver, A. F., Adelman, S. J., Cowley, C. R. & Fletcher, J. M. Astrophys. J. 380, 223–229 (1991).

Aufdenberg, J. P. Astrophys. J. (in the press); preprint available at http://www.arxiv.org/abs/astro-ph/0603327 (2006).
About this article
Cite this article
Gray, R. A whirling dervish. Nature 440, 873–874 (2006). https://doi.org/10.1038/440873a
Published:

Issue Date:

DOI: https://doi.org/10.1038/440873a