A spacecraft could deflect an Earth-bound asteroid without having to dock to its surface first.
Abstract
We present a design concept for a spacecraft that can controllably alter the trajectory of an Earth-threatening asteroid by using gravity as a towline. The spacecraft hovers near the asteroid, with its thrusters angled outwards so that the exhaust does not impinge on the surface. This proposed deflection method is insensitive to the structure, surface properties and rotation state of the asteroid.
Access options
Subscribe to Journal
Get full journal access for 1 year
$199.00
only $3.90 per issue
All prices are NET prices.
VAT will be added later in the checkout.
Tax calculation will be finalised during checkout.
Rent or Buy article
Get time limited or full article access on ReadCube.
from$8.99
All prices are NET prices.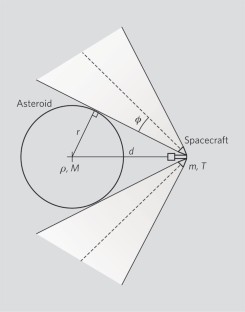 References
1

Chapman, C. R. Earth Planet. Sci. Lett. 222, 1–15 (2004).

2

Schweickart, R. L., Lu, E. T., Hut, P. & Chapman, C. R. Sci. Am. 289, 54–61 (2003).

3

Scheeres, D. J. & Schweickart, R. L. The Mechanics of Moving Asteroids (paper 2004–1446, Am. Inst. Aeronaut. Astronaut., 2004).

4

Chesley, S. R. & Spahr, T. B. in Mitigation of Hazardous Comets and Asteroids (eds Belton, M. J. S. et al.) 22–37 (Cambridge Univ. Press, Cambridge, 2004).

5

Carusi, A., Valsecchi, G. B., D'Abramo, G. & Boatini, A. Icarus 159, 417–422 (2002).

6

JPL Sentry Impact Risk Page http://neo.jpl.nasa.gov/risk
Ethics declarations
Competing interests
The authors declare no competing financial interests.
About this article
Cite this article
Lu, E., Love, S. Gravitational tractor for towing asteroids. Nature 438, 177–178 (2005). https://doi.org/10.1038/438177a
Comments
By submitting a comment you agree to abide by our Terms and Community Guidelines. If you find something abusive or that does not comply with our terms or guidelines please flag it as inappropriate.