Abstract
One of the most striking predictions of Einstein's special theory of relativity is also perhaps the best known formula in all of science: E=mc2. If this equation were found to be even slightly incorrect, the impact would be enormous — given the degree to which special relativity is woven into the theoretical fabric of modern physics and into everyday applications such as global positioning systems. Here we test this mass–energy relationship directly by combining very accurate measurements of atomic-mass difference, Δm, and of γ-ray wavelengths to determine E, the nuclear binding energy, for isotopes of silicon and sulphur. Einstein's relationship is separately confirmed in two tests, which yield a combined result of 1−Δmc2/E=(−1.4±4.4)×10−7, indicating that it holds to a level of at least 0.00004%. To our knowledge, this is the most precise direct test of the famous equation yet described.
Relevant articles
Open Access articles citing this article.
Diederik Sybolt Wiersma

&

Giovanni Mana

Rendiconti Lincei. Scienze Fisiche e Naturali Open Access 19 October 2021

Enrico Massa

,

Carlo Paolo Sasso

&

Giovanni Mana

MAPAN Open Access 19 November 2020
Access options
Subscribe to Journal
Get full journal access for 1 year
$199.00
only $3.90 per issue
All prices are NET prices.
VAT will be added later in the checkout.
Tax calculation will be finalised during checkout.
Buy article
Get time limited or full article access on ReadCube.
$32.00
All prices are NET prices.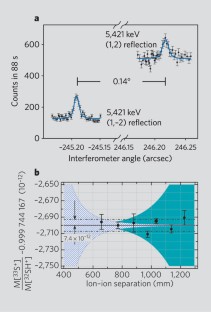 References
Mohr, P. J. & Taylor, B. N. Rev. Mod. Phys. 77, 1–107 (2005).

Kessler, E. G. et al. Phys. Lett. A 255, 221–229 (1999).

Kessler, E. G. et al. Nucl. Instrum. Meth. Phys. Res. A 457, 187–202 (2001).

Dewey, M. S. et al. Preprint nucl-ex/0507011 at http://arxiv.org (2005).

Rainville, S., Thompson, J. K. & Pritchard, D. E. Science 303, 334–338 (2004).

Audi, G., Wapstra, A. H. & Thibault, C. Nucl. Phys. A 729, 337–676 (2003).

Thompson, J. K., Rainville, S. & Pritchard, D. E. Nature 430, 58–61 (2004).

NIST Chemistry WebBook, NIST Standard Reference Database Number 69 (eds Linstrom, P. J. & Mallard, W. G.) (National Institute of Standards and Technology, Gaithersburg, Maryland, 2003).

Chase, M. W. J. Phys. Chem. Ref. Data Monogr. 9, 1–1951 (1998).

Greene, G. L., Dewey, M. S., Kessler, E. G. & Fischbach, E. Phys. Rev. D 44, R2216–R2219 (1991).
Supplementary information
About this article
Cite this article
Rainville, S., Thompson, J., Myers, E. et al. A direct test of E=mc2. Nature 438, 1096–1097 (2005). https://doi.org/10.1038/4381096a
Published:

Issue Date:

DOI: https://doi.org/10.1038/4381096a
Comments
By submitting a comment you agree to abide by our Terms and Community Guidelines. If you find something abusive or that does not comply with our terms or guidelines please flag it as inappropriate.