Dispute highlights tension between academic system and religion.
The struggle between Turkey's Islamic and academic powerhouses for control of the country's universities is becoming increasingly acrimonious.
Late last month, nearly all of the country's 77 university rectors travelled to Van, close to Turkey's eastern border with Iran, to support Yücel Askin, a university rector who is held in jail there. They say that the charges brought against him are trumped up, and are demanding his release.
Askin, who has been rector of the 100th Year University in Van since 1999, has been charged with corruption relating to the purchase of medical equipment for the university hospital.
According to Turkish law, all problems arising in the country's universities should be handled first by the Council of Higher Education. But the public prosecutor in Van ordered Askin's arrest on 14 October without asking the council, and insisted that he is jailed until a date for the court hearing is decided.
This is the fifth case that the public prosecutor has tried to bring against Askin. The others involved accusations of illegal handling of historical documents or objects snatched from his home during police raids in the past year. All items were found to be legally registered and the charges dropped.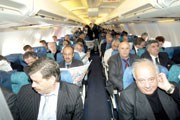 Askin is unpopular with religious groups, say the rectors, who argue that he has been targeted because he resisted pressure to appoint underqualified candidates, supported by powerful Islamic figures, into key academic positions.
Turkey's higher-education law is supposed to forbid political or religious interference in academia. But tensions between Islamic and secular groups have come to a head since 2003, when the country's centre-left-led coalition was replaced by the Justice and Development Party, which is mildly Islamic (see page 1).
The rectors flew to Van on 23 October to register their concern and investigate the issue. During the visit their 20-car convoy was attacked by demonstrators described by the rectors as fundamentalist Islamics.
Erdogan Tezic, president of the higher-education council, told national newspapers that Askin wanted "to maintain the secular quality of the republic", and that "defending Mr Askin is synonymous with defending the Republic". The Turkish Academy of Sciences has also released a statement in support of Askin.
Justice minister Cemil Cicek has told newspapers that the incident should not be turned into an ideological cause, and that the courts will decide the outcome. In the meantime, the case remains at an impasse.
About this article
Cite this article
Abbott, A. Turkish rectors rally in support of university head thrown in jail. Nature 438, 8–9 (2005). https://doi.org/10.1038/438008c
Published:

Issue Date:

DOI: https://doi.org/10.1038/438008c