MIT immunologist sacked for scientific misconduct.
Biologists are rushing to quantify the fallout from a case of scientific misconduct unmasked last week. The Massachusetts Institute of Technology (MIT) confirmed on 27 October that it had fired immunologist Luk Van Parijs for fabricating and falsifying data.
The institute said that Van Parijs, an associate professor of biology, had acknowledged to its officials that he altered data in one published article, in unpublished manuscripts and in grant applications. The California Institute of Technology (Caltech) and Harvard University have both now opened inquiries into some of Van Parijs's other published work.
Authorities at all three universities say they have found no evidence that anyone else was involved in the misconduct. Van Parijs previously worked in the labs of Caltech's president, David Baltimore, and physician Abul Abbas, head of pathology at the University of California, San Francisco.
Van Parijs, a 35-year-old native of Belgium who lives in Falmouth, Massachusetts, did not respond to interview requests. His primary studies involved using short pieces of RNA to silence genes that have gone awry in autoimmune diseases. Early indications suggest that his misconduct will not affect his field as dramatically as semiconductor research was affected by Bell Laboratories physicist Jan Hendrik Schön1. Colleagues spent years following Schön's line of research until in 2002 it was discovered that he had falsified some of his data.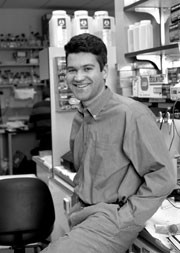 Van Parijs co-authored a heavily cited paper for Nature Genetics in 2003 describing how to use a stripped-down virus, called a lentivirus, as a delivery system for genes that can silence other genes2. The paper has not been called into question, and other researchers have shown that the approach works, at least in animal models and cell cultures. Clinical trials in human patients are now being planned.
Because of such work, Van Parijs was considered a rising star. "He had incredible potential," says Abbas, who worked with him in 1997 and 1998 at Brigham and Women's Hospital in Boston. "He was a superstar in the making."
But in August 2004, MIT put Van Parijs on administrative leave after some of his lab colleagues made allegations of misconduct to the institute's authorities. After the lab was closed, his students and postdocs scrambled to get jobs elsewhere, and MIT began the inquiry that culminated in his sacking.
Abbas says that Van Parijs has e-mailed him and denied falsifying data in more than one paper. "He apologized for the disappointment he has caused," Abbas says.
MIT officials say that they will submit the results of their investigation to the Office of Research Integrity, the federal agency that monitors research conduct for the US National Institutes of Health. It has been at least a decade since the institute has uncovered a case of misconduct, the officials say.
MIT has not publicly identified the paper that contains the falsified results. But in May, Current Opinion in Molecular Therapeutics published a correction to a 2004 review3,4 on which Van Parijs was the lead author. The note said that unpublished experiments cited in the paper — involving genetically controlling tumour growth in mice — could not be documented.
Investigators are now probing several of Van Parijs's older publications. Caltech is looking at two articles published in Immunity, including one co-authored by Baltimore5,6. And Harvard is looking into a 1997 paper in the Journal of Experimental Medicine7.
The Immunity work dealt with a cell signalling pathway that governs the processes by which cells in the immune system live and die. An expert in the field, who asked not to be named, said that Van Parijs's experiments had never directly been replicated. "We really would like to know if the work is reproducible, so the field can move forward," the immunologist said, "or whether we have to do an about-face."
Additional reporting by Erika Check
References
Brumfiel, G. Nature 419, 419–421 (2002).

Rubinson, D. A. et al. Nature Genet. 33, 401–406 (2003).

Nencioni, A. et al. Curr. Opin. Mol. Ther. 6, 136–140 (2004).

Curr. Opin. Mol. Ther. 7, 282 (2005).

Van Parijs, L., Peterson, D. A. & Abbas, A. K. Immunity 8, 265–274 (1998).

Van Parijs, L. et al. Immunity 11, 281–288 (1999).

Van Parijs, L. et al. J. Exp. Med. 186, 1119–1128 (1997).
Related links
Related links
Related links in Nature Research
Related external links
About this article
Cite this article
Dalton, R. Universities scramble to assess scope of falsified results. Nature 438, 7 (2005). https://doi.org/10.1038/438007a
Published:

Issue Date:

DOI: https://doi.org/10.1038/438007a