Synchronized radiation from arrays of oscillators is widely used in microwave and wireless communications. Phase-locked oscillations produced at the atomic level now pave the way for devices on the nanoscale.
Your institute does not have access to this article
Access options
Subscribe to Journal
Get full journal access for 1 year
$199.00
only $3.90 per issue
All prices are NET prices.
VAT will be added later in the checkout.
Tax calculation will be finalised during checkout.
Buy article
Get time limited or full article access on ReadCube.
$32.00
All prices are NET prices.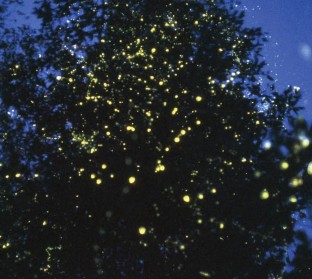 References
Strogatz, S. Sync: The Emerging Science of Spontaneous Order (Hyperion, New York, 2003).

Kaka, S. et al. Nature 437, 389–392 (2005).

Mancoff, F. B. et al. Nature 437, 393–395 (2005).

Richardson, O. W. Phys. Rev. 26, 248–253 (1908).

Einstein, A. & de Haas, W. J. Verh. Dt. Phys. Ges. 17, 152–170 (1915).

Beth, R. A. Phys. Rev. 50, 115–125 (1936).

Scott, G. G. Phys. Rev. 82, 542–547 (1951).

Doll, R. & Nabauer, M. Phys. Rev. Lett. 7, 51–52 (1961).

Mohanty, P. et al. Phys. Rev. B 70, 195301 (2004).

Berger, L. Phys. Rev. B 54, 9353–9358 (1996).

Slonczewski, J. C. J. Magn. Magn. Mater. 159, L1–L7 (1996).

Huygens, C. Oeuvres Complètes de Christiaan Huygens (ed. Nijhoff, M.) (Société Hollandaise des Sciences, The Hague, 1893).
About this article
Cite this article
Mohanty, P. Nano-oscillators get it together. Nature 437, 325–326 (2005). https://doi.org/10.1038/437325a
Published:

Issue Date:

DOI: https://doi.org/10.1038/437325a