Catalogue of fraud has taken years to uncover.
The British Colonel Richard Meinertzhagen earned many illustrious titles during his life of globe-trotting, including soldier, spy and even scientist. Now an extensive analysis of bird specimens he collected across continents adds another label: fraud artist.
Meinertzhagen, who died in 1967, donated some 20,000 bird specimens to the British Natural History Museum in Tring in 1954. The museum has one of the world's largest ornithological collections, with around two million items, and is an internationally important archive for biology and ecology studies.
But a large proportion of the specimens Meinertzhagen donated were fraudulently labelled and many were stolen, according to a report presented late last month at the annual meeting of the American Ornithologists' Union in Santa Barbara, California.
Pamela Rasmussen, an ornithologist at Michigan State University in Lansing, and Robert Prys-Jones, head of the collection at Tring, began investigating Meinertzhagen's specimens from Asia after fraudulently labelled finches were reported in 1993. It has taken sophisticated forensic techniques and well over a decade of work to uncover the extent of the deceit. "There are hundreds and probably thousands of fraudulently catalogued specimens," says Rasmussen. "This was going on for the better part of his life."
A member of the Royal Fusiliers, Meinertzhagen served in the Middle East, Africa and across the Asian subcontinent, campaigning with the likes of Lawrence of Arabia. Substantial portions of his collection are thought to be valid and important, including many specimens from Afghanistan. But Rasmussen and Prys-Jones found that, as early as 1914, Meinertzhagen was stealing specimens from the British Museum and other institutions, then retagging them with catalogue details of his own making. "It's the most egregious example of fraud that I am aware of," says Prys-Jones.
And it may have played havoc with the conclusions of biologists who subsequently studied the specimens. Museum collections of bird skins, skeletons, nests and eggs are the primary record by which biologists chart the life of species. Stored items are marked with small tags that contain crucial details of a specimen's life history, such as favoured climate and geographic location.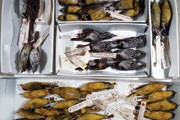 Rasmussen and Prys-Jones's studies included painstaking analysis of the way specimens were prepared and the handwriting on tags, together with X-rays of skeletons, to determine which had faked data, and to match specimens with those stolen from other institutions. They found that Meinertzhagen frequently reported species at locations where they had never been seen before, and documented recent sightings of rare or near-extinct birds.
In one case, he took a specimen of the kingfisher Alcedo hercules that had been found on the island of Hainan off China, and listed it as being from Myanmar. In another, he swiped a forest owlet (Heteroglaux blewitti) skin from the British Museum and retagged it as his own discovery. That gave him credit for having found the last of the species in 1914, when it had actually been discovered in India in the 1880s by another collector. Rasmussen herself has since rediscovered the forest owlet alive in India, while she was investigating Meinertzhagen's role in the fraud.
Rasmussen and Prys-Jones have now corrected as many of the tags as possible, and are soon to publish a long article on the malfeasance, to serve as a guide for scientists studying the Tring collection. It may also inform the use of other Meinertzhagen specimens, which are housed at the American Museum of Natural History in New York and the World Museum Liverpool, UK. Those collections aren't believed to have such problems, say officials at the museums, but they haven't been thoroughly checked.
Related links
Related links
Related external links
About this article
Cite this article
Dalton, R. Ornithologists stunned by bird collector's deceit. Nature 437, 302 (2005). https://doi.org/10.1038/437302a
Published:

Issue Date:

DOI: https://doi.org/10.1038/437302a