Researchers fear that the bird flu virus's next stop will be Africa, where dependence on poultry means that the consequences could be even worse than in southeast Asia. Tom Simonite reports.
The deadly H5N1 bird flu virus is expected to be carried by birds into the Middle East and east Africa within weeks, the United Nations' Food and Agriculture Organization (FAO) warned last week.
Concern is growing that the Rift Valley in east Africa is particularly at risk. Researchers told Nature that if the virus reaches the area's lakes, the health and economic consequences could be even worse than in southeast Asia, where the virus is endemic in many regions.
"The next step we expect the virus to take is into Africa, because that is on the main migratory route for birds," says Ward Hagemeijer of conservation organization Wetlands International in Wageningen, the Netherlands. "The first birds are already in east Africa." There is no definitive evidence that migratory birds are carrying the disease, he says, but the pattern of the virus's spread points strongly to wildfowl travelling southwest from northern Russia to east Africa (see 'Ornithologists on the front line').
Outbreaks have already occurred along the route in Romania and Turkey, where they seem to have been controlled by culls and quarantine orders. But the migration is now in full swing, and some birds have crossed the Middle East and reached the Rift Valley. Middle Eastern states have stepped up efforts to plan for possible outbreaks, and some are monitoring migrating birds, but there has been little response in more vulnerable east African countries. This means that if the virus arrives there, it could quickly become endemic.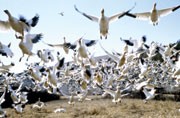 "The impact in Africa will be dramatically different from the impact in Europe," says Hagemeijer. Rural communities around the lakes of the Rift Valley region depend heavily on poultry to survive, and live in close contact with both domestic and migratory birds.
The FAO's chief veterinary officer, Joseph Domenech, said on 19 October that African countries should be given international assistance to help them look out for the virus and control any outbreaks. He warned that if the virus becomes endemic in Africa, the chances of it mutating to spread between humans, potentially triggering a pandemic, will increase.
But the most immediate threat is the economic loss that will result if large numbers of poultry succumb to the disease or have to be culled. "Losing poultry would have a devastating effect on livelihoods in the area," says Lea Borkenhagen, sustainable-living development manager at the charity Oxfam, UK. "Women in particular would be affected, as poultry represent the only assets they can possess."
Tadelle Dessie, a poultry researcher at the International Livestock Research Institute in Addis Ababa, Ethiopia, agrees. Earlier this year he travelled to Vietnam where more than 40 people have been killed by H5N1, and spent time with experts working to contain the virus and develop systems to spot it early. "The situation in Africa could be worse," he warns.
There is concern that, so far, not enough is being done to look out for bird flu in the region. "We need to raise awareness of the risks," says Hagemeijer. "Experts know about it, but there is no wider coordination." He is currently travelling in Africa as part of an effort by Wetlands International to establish a network of people monitoring water birds for signs of the disease.
Few countries in the area have systems in place to test for H5N1. And efforts to control outbreaks would be hampered by the difficult terrain in remote communities around the region's lakes, as well as by the low level of education across the region. "Our estimate for the Rift Valley is that literacy rates are between 10% and 40%, with women at the lower end," says Borkenhagen. "That's much lower than in countries such as Vietnam, so it will be hard for people to take on the kind of information that will have to be given."
Dessie says his attempts to get the Ethiopian government to acknowledge the problem have so far been unsuccessful, but that he hopes the FAO's warning will lead to action.
In response to Domenech's statement, Kenya, Sudan and Tanzania have all imposed restrictions on poultry imports, and Tanzanian livestock officials say they are teaching people in wetland areas to keep poultry away from wild birds. East African nations will meet next month in Rwanda to develop a regional strategy to handle the threat of bird flu.
Related links
Related links
Related links in Nature Research
Related external links
About this article
Cite this article
Migration threatens to send flu south. Nature 437, 1212–1213 (2005). https://doi.org/10.1038/4371212a
Published:

Issue Date:

DOI: https://doi.org/10.1038/4371212a
This article is cited by
Nature (2006)

Nature (2006)