Abstract
Oncogene-induced senescence is a cellular response that may be crucial for protection against cancer development1,2, but its investigation has so far been restricted to cultured cells that have been manipulated to overexpress an oncogene. Here we analyse tumours initiated by an endogenous oncogene, ras, and show that senescent cells exist in premalignant tumours but not in malignant ones. Senescence is therefore a defining feature of premalignant tumours that could prove valuable in the diagnosis and prognosis of cancer.
Access options
Access options
Subscribe to Journal
Get full journal access for 1 year
$199.00
only $3.90 per issue
All prices are NET prices.
VAT will be added later in the checkout.
Rent or Buy article
Get time limited or full article access on ReadCube.
from$8.99
All prices are NET prices.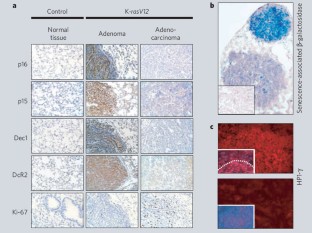 References
1

Serrano, M., Lin, A. W., McCurrach, M. E., Beach, D. & Lowe, S. W. Cell 88, 593–602 (1997).

2

Lowe, S. W., Cepero, E. & Evan, G. Nature 432, 307–315 (2004).

3

Guerra, C. et al. Cancer Cell 4, 111–120 (2003).

4

Dimri, G. P. et al. Proc. Natl Acad. Sci. USA 92, 9363–9367 (1995).

5

Narita, M. et al. Cell 113, 703–716 (2003).

6

Palmero, I., Pantoja, C. & Serrano, M. Nature 395, 125–126 (1998).

7

Tuveson, D. A. et al. Cancer Cell 5, 375–387 (2004).
Ethics declarations
Competing interests
The authors declare no competing financial interests.
Supplementary information
Comments
By submitting a comment you agree to abide by our Terms and Community Guidelines. If you find something abusive or that does not comply with our terms or guidelines please flag it as inappropriate.