Majority leader changes mind over funding rules.
Prospects for US stem-cell research brightened considerably last week when a key Republican senator backed the idea of loosening funding restrictions on the work.
In a speech on the floor of the Senate on 29 July, majority leader Bill Frist (Republican, Tennessee) endorsed efforts to increase federal funding for research on newly derived human embryonic stem-cell lines. He said that President George Bush's policy of limiting the use of federal funds to a handful of lines derived before 9 August 2001 needed changing.
"I believe the president's policy should be modified," Frist said. "We should expand federal funding and current guidelines governing stem-cell research, carefully and thoughtfully staying within ethical bounds."
Frist's announcement makes it much more likely that the Senate will pass legislation similar to that already passed by the House of Representatives, which voted to loosen funding restrictions in May (see Nature 435, 544–545; 2005). Research advocates even say that Frist's speech might make it possible for the Senate to later override a promised presidential veto of the bill — although the return of the bill to the House is unlikely to gather similar levels of support.
And whether or not the bill passes this year, they say, Frist's speech marks a turning point in the US debate on stem-cell research, because of his highly visible role in the Republican party and the Senate. "The ramifications of this are huge," says Kevin Wilson, director of public policy at the American Society for Cell Biology.
Frist had said recently that he was opposed to modifying the president's policy, and his change of mind was a surprise to many people involved in the stem-cell debate. But Nature has learned that Frist consulted with at least two scientists just days before his speech.
On 27 July, Frist spoke to Irving Weissman, a stem-cell pioneer at Stanford University and an outspoken critic of the president's policy. Weissman told him that the stem-cell lines currently approved for research cannot be used for therapeutic trials in people because they are probably contaminated with mouse viruses. He also explained that US companies are likely to need licences to develop therapies using the best techniques in the field, which have been pioneered by South Korean researchers.
"I told him that prohibiting a line of research has consequences, not just from a scientific perspective, but also from both economic and health perspectives," Weissman says.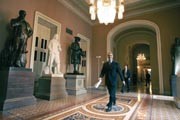 The fact that Frist's speech placed strong emphasis on the development of potential treatments is encouraging, Weissman adds. "I knew something was going to happen, but I was surprised by how far he went," he says.
But Frist's change of heart still leaves it unclear whether he will give his full support to the core measure of the proposed bill, which would allow researchers to use federal funds to work on any embryonic cell lines. Frist said that he supports research into methods of producing human embryonic stem-cell lines that don't involve the use of a viable embryo.
In recent weeks, senators have proposed a flurry of bills supporting such methods — none of which has yet been shown to work (see Nature 436, 309; 2005). Nature has been told that two senators, Kay Bailey Hutchison (Republican, Texas) and Norm Coleman (Republican, Minnesota), have also suggested 'compromise' bills. One would allow funding for research on cell lines created since the president's policy was announced until now. The other would allow researchers to use only 'spare' embryos created for in vitro fertilization currently existing at fertility clinics.
These bills could still pull Senate support away from the core measure — passed by the House and favoured by most scientists. As majority leader, Frist gets to decide how and when to put each bill to the vote when the Senate reconvenes next month after a long recess.
Related links
Related links
Related links in Nature Research
Related external links
About this article
Cite this article
Check, E. Senator boosts chances of stem-cell reform. Nature 436, 608–609 (2005). https://doi.org/10.1038/436608a
Published:

Issue Date:

DOI: https://doi.org/10.1038/436608a
This article is cited by
Meredith Wadman
Alison Abbott

Nature (2006)

Nature (2006)