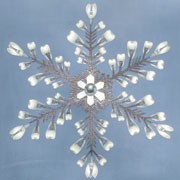 Wilson 'Snowflake' Bentley had a lifelong obsession with the intricate hexagonal symmetry of snowflakes. He produced more than 5,000 photo-micrographs, compiled in his 1931 landmark book Snow Crystals, and in other publications.
An unseasonal exhibition at the New York Academy of Sciences, 'One of a Kind', pairs Bentley's images with works on the same theme by contemporary artists, including Daniele Imperiale-Warner, whose egg tempera on parchment painting, Untitled, is shown here.
The exhibition runs until 31 August.
About this article
Cite this article
Snow business. Nature 436, 463 (2005) doi:10.1038/436463b
Comments
By submitting a comment you agree to abide by our Terms and Community Guidelines. If you find something abusive or that does not comply with our terms or guidelines please flag it as inappropriate.