Infection of mosquitoes by a particular bacterium has a fiendishly complicated influence on the success or failure of mosquito breeding. A window now opens on the molecular basis of this 'cytoplasmic incompatibility'.
Access options
Subscribe to Journal
Get full journal access for 1 year
$199.00
only $3.90 per issue
All prices are NET prices.
VAT will be added later in the checkout.
Rent or Buy article
Get time limited or full article access on ReadCube.
from$8.99
All prices are NET prices.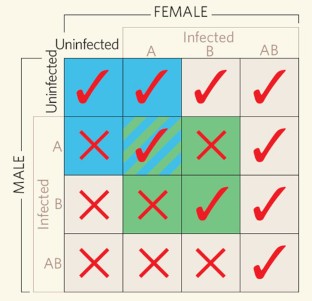 References
1

Hoffmann, A. A. & Turelli, M. in Influential Passengers (eds O'Neill, S. L., Hoffmann, A. A. & Werren, J. H.) 42–80 (Oxford Univ. Press, 1997).

2

Laven, H. in Genetics of Insect Vectors of Disease (eds Wright, R. & Pal, R.) 251–275 (Elsevier, Amsterdam, 1967).

3

Sinkins, S. P. et al. Nature 436, 257–260 (2005).

4

Rasgon, J. L. & Scott, T. W. Genetics 165, 2029–2038 (2003).

5

Kittayapong, P. et al. Am. J. Trop. Med. Hyg. 66, 103–107 (2002).

6

Guillemaud, T., Pasteur, N. & Rousset, F. Proc. R. Soc. Lond. B 264, 245–251 (1997).

7

Wu, M. et al. PLoS Biol. 2, 327–341 (2004).

8

Fujii, Y., Kubo, T., Ishikawa, H. & Sasaki, T. Biochem. Biophys. Res. Commun. 317, 1183–1188 (2004).

9

Salzberg, S. et al. Genome Biol. 6, R23 (2005).

10

Duron, O. et al. Mol. Ecol. 14, 1561–1573 (2005).
About this article
Cite this article
Hoffmann, A. Incompatible mosquitoes. Nature 436, 189 (2005) doi:10.1038/436189a
Comments
By submitting a comment you agree to abide by our Terms and Community Guidelines. If you find something abusive or that does not comply with our terms or guidelines please flag it as inappropriate.