Abstract
Today's magnetic-field sensors1 are not capable of making measurements with both high spatial resolution and good field sensitivity. For example, magnetic force microscopy2 allows the investigation of magnetic structures with a spatial resolution in the nanometre range, but with low sensitivity, whereas SQUIDs3 and atomic magnetometers4 enable extremely sensitive magnetic-field measurements to be made, but at low resolution. Here we use one-dimensional Bose–Einstein condensates in a microscopic field-imaging technique that combines high spatial resolution (within 3 micrometres) with high field sensitivity (300 picotesla).
Access options
Subscribe to Journal
Get full journal access for 1 year
$199.00
only $3.83 per issue
All prices are NET prices.
VAT will be added later in the checkout.
Rent or Buy article
Get time limited or full article access on ReadCube.
from$8.99
All prices are NET prices.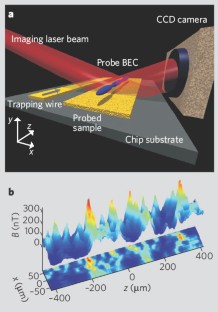 References
1

Bending, S. J. Adv. Phys. 48, 499–535 (1999).

2

Freeman, M. R. & Choi, B. C. Science 294, 1484–1488 (2001).

3

Faley, M. I. et al. Supercond. Sci. Technol. 17, 324–327 (2004).

4

Kominis, I. K., Kornack, T. W., Allred, J. C. & Romalis, M. V. Nature 422, 596–599 (2003).

5

Fortagh, J., Ott, H., Kraft, S., Günther, A. & Zimmermann, C. Phys. Rev. A 66, 041604 (2002).

6

Esteve, J. et al. Phys. Rev. A 70, 043629 (2004).

7

Leanhardt, A. E. et al. Phys. Rev. Lett. 89, 040401 (2002).

8

Jones, M. P. A. et al. Phys. Rev. Lett. 91, 080401 (2003).

9

Dunjko, V., Lorent, V. & Olshanii, M. Phys. Rev. Lett. 86, 5413–5416 (2001).

10

Folman, R., Krüger, P., Schmiedmayer, J., Denschlag, J. & Henkel, C. Adv. At. Mol. Opt. Phys. 48, 263–356 (2002).

11

Rous, P. J., Yongsunthon, R., Stanishevsky, A. & Williams, E. D. J. Appl. Phys. 95, 2477–2486 (2004).

12

Oral, A. et al. IEEE Trans. Magn. 38, 2438–2440 (2002).
Ethics declarations
Competing interests
The authors declare no competing financial interests.
Supplementary information
About this article
Cite this article
Wildermuth, S., Hofferberth, S., Lesanovsky, I. et al. Microscopic magnetic-field imaging. Nature 435, 440 (2005). https://doi.org/10.1038/435440a
Comments
By submitting a comment you agree to abide by our Terms and Community Guidelines. If you find something abusive or that does not comply with our terms or guidelines please flag it as inappropriate.