Abstract
The site of Dmanisi in the Eurasian republic of Georgia has yielded striking hominin, faunal and archaeological material as evidence for the presence of early Homo outside Africa 1.77 million years ago, documenting an important episode in human evolution. Here we describe a beautifully preserved skull and jawbone from a Dmanisi hominin of this period who had lost all but one tooth several years before death. This specimen not only represents the earliest case of severe masticatory impairment in the hominin fossil record to be discovered so far, but also raises questions about alternative subsistence strategies in early Homo.
Access options
Subscribe to Journal
Get full journal access for 1 year
$199.00
only $3.83 per issue
All prices are NET prices.
VAT will be added later in the checkout.
Rent or Buy article
Get time limited or full article access on ReadCube.
from$8.99
All prices are NET prices.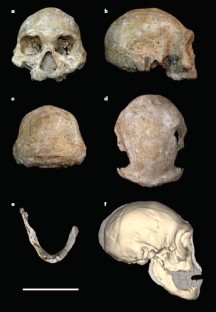 References
1

Gabunia, L. et al. Science 288, 1019–1025 (2000).

2

Vekua, A. et al. Science 297, 85–89 (2002).

3

Atwood, D. A. J. Prosthet. Dent. 26, 266–273 (1971).

4

Lebel, S. et al. Proc. Natl Acad. Sci. USA 98, 11097–11102 (2001).

5

Tappen, N. C. Am. J. Phys. Anthropol. 67, 43–50 (1985).

6

Miles, A. E. W. & Grigson, C. Colyer's Variations and Diseases of the Teeth of Animals (Cambridge Univ. Press, Cambridge, 1990).

7

Gaudzinski, S. J. Archaeol. Sci. 31, 65–75 (2004).

8

Domínguez-Rodrigo, M., Pickering, T. R., Sema, S. & Rogers, M. J. J. Hum. Evol. 41, 109–121 (2005).

9

Foley, R. in Meat Eating and Human Evolution (eds Standford, C. B. & Bunn, H. T.) 305–331 (Oxford Univ. Press, Oxford, 2001).
Ethics declarations
Competing interests
The authors declare no competing financial interests.
Supplementary information
About this article
Cite this article
Lordkipanidze, D., Vekua, A., Ferring, R. et al. The earliest toothless hominin skull. Nature 434, 717–718 (2005). https://doi.org/10.1038/434717b
Comments
By submitting a comment you agree to abide by our Terms and Community Guidelines. If you find something abusive or that does not comply with our terms or guidelines please flag it as inappropriate.