Australian club wins advantage through genetically tailored training.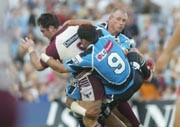 An Australian rugby league team claims it has gained a competitive edge over its rivals by using genetic tests to tailor its players' training programmes. This move marks the beginning of more widespread use of genetics in sport, according to geneticists and legal experts.
"Once one club has it, there will be pressure on other teams to do everything they can or risk falling behind the technology," says David Weisbrot, president of the Australian Law Reform Commission, which makes legislative and policy recommendations regarding genetic information to the nation's government.
The Sea Eagles, a professional rugby team in Manly, a seaside suburb of Sydney, has DNA-tested 18 of its 24 players for 11 exercise-related genes. Some of the genes tested are associated with the efficiency of oxygen use; others are involved in muscle development and clearing lactate, the chemical that causes muscle stiffness.
Each player's training programme is being redesigned according to whether his individual genetic profile indicates, for example, that his main strength is endurance or speed. "We don't want a player running 100 kilometres a week if his genes say he's more suited to 50 kilometres a week and doing more weights," says Steve Dank, the team's physiologist behind the programme.
But applying genetics to sports training is premature, say some experts. "We don't know enough yet about these genes," says Ron Trent, a molecular geneticist at the University of Sydney.
Trent also argues that genetic tests are likely to be "more meaningful at the élite level, where it could be the difference between a gold and silver Olympic medal". But he agrees that they could help to identify an athlete's potential.
He is working with the Australian Institute of Sport (AIS), the country's premier sports training and research facility, to develop genetic profiles that identify the sport best suited to an athlete. Genetic indicators of speed, power and endurance can inform decisions about whether an athlete is better suited to swimming or rowing, for instance.
Trent's team is also investigating genetic profiles to position rugby union players on the field — for example, whether they are better suited to being nimble backs or beefy forwards.
There could soon be pressure on sports clubs, for financial and insurance reasons, to extend their testing to screen for genetic predisposition to certain injuries, Weisbrot says. "I also have concerns about privacy and genetic discrimination," he adds.
DNA samples are destroyed immediately after testing and the team has agreements in place to stop the information being obtained by other parties, according to Dank.
Dank believes that genetic screening will become routine for sports clubs — "I've had a number of clubs contact me," he says. But he doubts that they will ever be critical factors in selecting players. "Gene tests don't measure the passion that makes players great," he says.
About this article
Cite this article
Dennis, C. Rugby team converts to give gene tests a try. Nature 434, 260 (2005). https://doi.org/10.1038/434260a
Published:

Issue Date:

DOI: https://doi.org/10.1038/434260a
This article is cited by
Rakesh John
Mandeep Singh Dhillon
Sidak Dhillon

Indian Journal of Orthopaedics (2020)

Bengt Kayser
Alexandre Mauron
Andy Miah

BMC Medical Ethics (2007)