This snake can synthesize fresh heart muscle to cope with extra metabolic demand.
Abstract
Oxygen consumption by carnivorous reptiles increases enormously after they have eaten a large meal in order to meet metabolic demands, and this places an extra load on the cardiovascular system. Here we show that there is an extraordinarily rapid 40% increase in ventricular muscle mass in Burmese pythons (Python molurus) a mere 48 hours after feeding, which results from increased gene expression of muscle-contractile proteins. As this fully reversible hypertrophy occurs naturally, it could provide a useful model for investigating the mechanisms that lead to cardiac growth in other animals.
This is a preview of subscription content
Access options
Subscribe to Journal
Get full journal access for 1 year
$199.00
only $3.90 per issue
All prices are NET prices.
VAT will be added later in the checkout.
Tax calculation will be finalised during checkout.
Buy article
Get time limited or full article access on ReadCube.
$32.00
All prices are NET prices.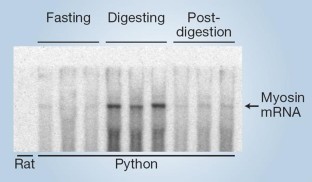 References
Cooper, G. Annu. Rev. Physiol. 49, 501–518 (1987).

Richey, P. A. & Brown, S. P. J. Sports Sci. 16, 129–141 (1998).

Secor, S. M. & Diamond, J. Nature 395, 659–662 (1998).

Secor, S. M. & Diamond, J. Am. J. Physiol. 272, R902–R912 (1997).

Starck, J. M. & Beese, K. J. Exp. Biol. 204, 325–335 (2001).

Vliegen, H. W., Bruschke, A. V. G. & Van Der Laarse, A. Comp. Biochem. Physiol. A: Physiol. 95, 109–114 (1990).

Secor, S. M., Hicks, J. W. & Bennett, A. F. J. Exp. Biol. 203, 2447–2454 (2000).

Morgan, H. E. et al. Annu. Rev. Physiol. 49, 533–543 (1987).

Quinn, K. E. et al. Biophys. J. 74, A355 (1998).
Ethics declarations
Competing interests
The authors declare no competing financial interests.
Supplementary information
About this article
Cite this article
Andersen, J., Rourke, B., Caiozzo, V. et al. Postprandial cardiac hypertrophy in pythons. Nature 434, 37–38 (2005). https://doi.org/10.1038/434037a
Published:

Issue Date:

DOI: https://doi.org/10.1038/434037a
Further reading
Peter Stenvinkel
Johanna Painer
Richard J. Johnson

Nature Reviews Nephrology (2018)

Audra L. Andrew
Blair W. Perry
Todd A. Castoe

BMC Genomics (2017)

Lucas Adrian
Matthias Lenski
Ulrich Laufs

Lipids (2017)
Comments
By submitting a comment you agree to abide by our Terms and Community Guidelines. If you find something abusive or that does not comply with our terms or guidelines please flag it as inappropriate.