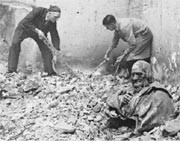 Whether your interest lies in anatomy, pathology, surgery or the history of science, or, like myself, you are just curious, the reopening last month of the Hunterian Museum at the Royal College of Surgeons of England in London is an event to be celebrated.
Although only 3,500 of the Hunterian's collection of some 65,000 items survived the bombing of the museum in 1941 (right), the remainder of this great eighteenth-century 'cabinet of curios' still ranges over an extraordinary and wonderful breadth of natural science. From the treatment of gunshot wounds and syphilis, through the anatomy of the extinct giant deer, to tooth transplants, the life cycle of bees and a dissection of a coachman's leg (below right), there is something for everyone in this amazing collection, which has undergone a £3.2-million (US$6-million) refurbishment.

The museum's founder, John Hunter (1728–93), was one of three brothers from Scotland who sought fame and fortune as surgeons in London. William, the eldest, was already well established when John joined him as an apprentice in 1748. After a career as an army surgeon, John married the talented Anne Home, who established a fashionable salon that attracted the great and the good of the day, from James Boswell to Joseph Banks. John was a workaholic who became successful as a surgeon, pathologist, teacher and experimentalist, and helped to lay the foundations of modern medicine. This is suitably celebrated by the excellent new displays put together by curator Simon Chaplin and his team.
William Hunter's collection is at the Hunterian Museum in Glasgow.
About this article
Cite this article
A medical history. Nature 434, 23 (2005). https://doi.org/10.1038/434023a
Comments
By submitting a comment you agree to abide by our Terms and Community Guidelines. If you find something abusive or that does not comply with our terms or guidelines please flag it as inappropriate.