In the Northern Hemisphere, large-scale glaciation was initiated comparatively recently. Paradoxically, it seems that the trigger was a seasonal warming of the sea surface in an upwind oceanic region.
Your institute does not have access to this article
Access options
Subscribe to Journal
Get full journal access for 1 year
$199.00
only $3.90 per issue
All prices are NET prices.
VAT will be added later in the checkout.
Tax calculation will be finalised during checkout.
Buy article
Get time limited or full article access on ReadCube.
$32.00
All prices are NET prices.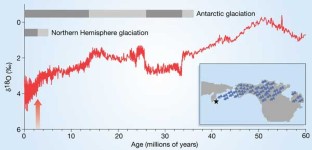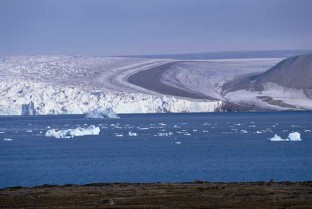 References
Zachos, J. et al. Science 292, 686–693 (2001).

Raymo, M. E. & Ruddiman, W. F. Nature 359, 117–122 (1992).

Pearson, P. N. & Palmer, M. R. Nature 406, 695–699 (2000).

Milankovitch, M. Serb. Akad. Beogr. Spec. Publ. 132 (1941).

Haug, G. H. & Tiedemann, R. Nature 393, 673–676 (1998).

Driscoll, N. W. & Haug, G. H. Science 282, 436–438 (1998).

Ravelo, A. C. et al. Nature 429, 263–267 (2004).

Haug, G. H. et al. Nature 433, 821–825 (2005).

Wefer, G., Berger, W. H., Bijma, J. & Fischer, G. in Use of Proxies in Paleoceanography (eds Fischer, G. & Wefer G.) 1–68 (Springer, Berlin, 1999).

Brandiss, M. E., O'Neil, J. R., Edlund, M. B. & Stoermer, E. F. Geochim. Cosmochim. Acta 62, 1119–1125 (1998).

Emiliani, C. J. Geol. 63, 538–578 (1955).

Haug, G. H. et al. Nature 401, 779–782 (1999).
About this article
Cite this article
Billups, K. Snow maker for the ice ages. Nature 433, 809–810 (2005). https://doi.org/10.1038/433809a
Published:

Issue Date:

DOI: https://doi.org/10.1038/433809a