The temptation to change lanes on a motorway may be prompted by an illusion.
Abstract
Switching lanes while driving along a busy road can be a risky manoeuvre. It is often instigated on the driver's judgement that the cars in the next lane are moving faster than those in the driver's own lane. But faulty intuition1,2,3 may cause people to overestimate the speed of vehicles in the next lane, believing that they are moving faster even when both lanes have the same average speed. We suggest that this illusion occurs because more time is generally spent being overtaken (passed) by other vehicles than is spent in overtaking them. Knowing that this effect is illusory might encourage drivers to resist small temptations to change lanes.
Access options
Subscribe to Journal
Get full journal access for 1 year
$199.00
only $3.83 per issue
All prices are NET prices.
VAT will be added later in the checkout.
Rent or Buy article
Get time limited or full article access on ReadCube.
from$8.99
All prices are NET prices.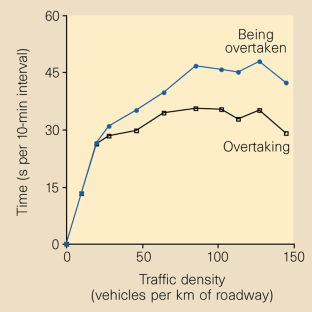 References
1

Snowden, R. J., Stimpson, N. & Ruddle, R. A. Nature 392, 450 (1998).

2

Walton, D. & Bathurst, J. Accident Anal. Prevent. 30, 821–830 (1998).

3

Tversky, A. & Kahneman, D. Q. J. Econ. 107, 1039–1061 (1991).

4

Larson, R. C. Operat. Res. 35, 895–904 (1987).

5

Angrilli, A., Cherubini, P., Pavese, A. & Manfredini, S. Percept. Psychophys. 59, 972–982 (1997).

6

Tversky, A. & Kahneman, D. Science 185, 1124–1131 (1974).

7

Gilovich, T., Vallone, B. & Tversky, A. Cogn. Psychol. 17, 295–314 (1985).

8

Feller, W. An Introduction to Probability Theory and its Applications Vol II (Wiley, New York, 1966).

9

Helbing, D. & Huberman, B. A. Nature 396, 738–740 (1998).

10

Bureau of the Census Statistical Abstract of the United States 1996 116th edn (Government Printing Office, Washington DC, 1997).
About this article
Cite this article
Redelmeier, D., Tibshirani, R. Why cars in the next lane seem to go faster. Nature 401, 35 (1999). https://doi.org/10.1038/43360
Comments
By submitting a comment you agree to abide by our Terms and Community Guidelines. If you find something abusive or that does not comply with our terms or guidelines please flag it as inappropriate.