The synthetic assembly of the active centre of hydrogen-producing enzymes adds to our understanding of their structure and function — and could produce new and useful materials that mimic these enzymes.
Access options
Subscribe to Journal
Get full journal access for 1 year
$199.00
only $3.90 per issue
All prices are NET prices.
VAT will be added later in the checkout.
Tax calculation will be finalised during checkout.
Buy article
Get time limited or full article access on ReadCube.
$32.00
All prices are NET prices.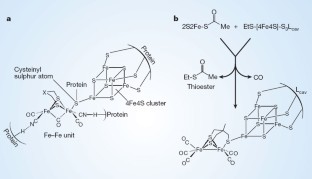 References
Vignais, P. M., Billoud, B. & Meyer, J. FEMS Microbiol. Rev. 25, 455–501 (2001).

Cammack, R., Frey, M. & Robson, R. Hydrogen as a Fuel: Learning from Nature (Taylor & Francis, London, 2001).

Tard, C. et al. Nature 433, 610–613 (2005).

Beinert, H., Holm, R. H. & Munck, E. Science 277, 653–659 (1997).

Averill, B. A., Herskovitz, T., Holm, R. H. & Ibers, J. A. J. Am. Chem. Soc. 95, 3523–3534 (1973).

Peters, J. W., Lanzilotta, W. N., Lemon, B. J. & Seefeldt, L. C. Science 282, 1853–1858 (1998).

Nicolet, Y. et al. Struct. Fold. Des. 7, 13–23 (1999).

Cody, G. D. et al. Science 289, 1337 (2000).

Adams, M. W. W. & Stiefel, E. I. Curr. Opin. Chem. Biol. 4, 214–220 (2000).

Stack, T. D. P. & Holm, R. H. J. Am. Chem. Soc. 109, 2546–2547 (1987).
About this article
Cite this article
Darensbourg, M. Making a natural fuel cell. Nature 433, 589–591 (2005). https://doi.org/10.1038/433589a
Published:

Issue Date:

DOI: https://doi.org/10.1038/433589a