Abstract
We investigated why wet hair clumps into bundles by dunking a model brush of parallel elastic lamellae into a perfectly wetting liquid. As the brush is withdrawn, pairs of bundles aggregate successively, forming complex hierarchical patterns that depend on a balance between capillary forces and the elasticity of the lamellae. This capillary-driven self-assembly of flexible structures, which occurs in the tarsi of insects1 and in biomimetic adhesives2 but which can also damage micro-electromechanical structures3,4,5,6 or carbon nanotube 'carpets'6,7,8, represents a new type of coalescence process.
Access options
Subscribe to Journal
Get full journal access for 1 year
$199.00
only $3.83 per issue
All prices are NET prices.
VAT will be added later in the checkout.
Rent or Buy article
Get time limited or full article access on ReadCube.
from$8.99
All prices are NET prices.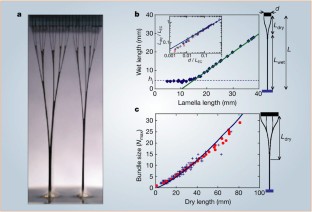 References
1

Eisner, T. & Aneshansley, D. J. Proc. Natl Acad. Sci. USA 97, 6568–6573 (2000).

2

Geim, A. et al. Nature Mater. 2, 461–463 (2003).

3

Tanaka, T., Morigami, M. & Atoda, N. Jpn. J. Appl. Phys. 32, 6059–6059 (1993).

4

Mastrangelo, C. H. & Hsu, C. H. J. Microelectromech. Syst. 2, 33–55 (1993).

5

Raccurt, O., Tardif, F. Arnaud d'Avitaya, F. & Vareine, T. J. Microelectromech. Syst. 14, 1083–1090 (2004).

6

Hui, C. Y., Jagota, A., Lin, Y. Y. & Kramer, E. J. Langmuir 18, 1394–1407 (2002).

7

Lau, K. et al. Nano Lett. 3, 1701–1705 (2003).

8

Chakrapani, N., Wei, B., Carrillo, A., Ajayan, P. M. & Kane, R. S. Proc. Natl Acad. Sci. USA 101, 4009–4012 (2004).

9

Freund, L. B. Dynamic Fracture Mechanics (Cambridge Univ. Press, Cambridge, 1990).

10

Cohen, A. E. & Mahadevan, L. Proc. Natl Acad. Sci. USA 100, 12141–12146 (2003).

11

Leyvraz, F. Phys. Rep. 383, 95–212 (2003).
Ethics declarations
Competing interests
The authors declare no competing financial interests.
About this article
Cite this article
Bico, J., Roman, B., Moulin, L. et al. Elastocapillary coalescence in wet hair. Nature 432, 690 (2004). https://doi.org/10.1038/432690a
Comments
By submitting a comment you agree to abide by our Terms and Community Guidelines. If you find something abusive or that does not comply with our terms or guidelines please flag it as inappropriate.