Summer temperature variations are reconstructed from harvest dates since 1370.
Abstract
French records of grape-harvest dates in Burgundy were used to reconstruct spring–summer temperatures from 1370 to 2003 using a process-based phenology model developed for the Pinot Noir grape. Our results reveal that temperatures as high as those reached in the 1990s have occurred several times in Burgundy since 1370. However, the summer of 2003 appears to have been extraordinary, with temperatures that were probably higher than in any other year since 1370.
Access options
Subscribe to Journal
Get full journal access for 1 year
$199.00
only $3.90 per issue
All prices are NET prices.
VAT will be added later in the checkout.
Rent or Buy article
Get time limited or full article access on ReadCube.
from$8.99
All prices are NET prices.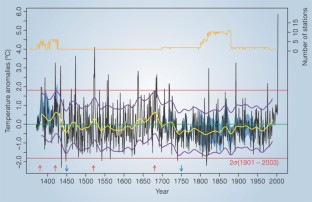 References
1

Pfister, C. Wetternachhersage. 500 Jahre Klimavariationen und Naturkatastrophen 1496–1995 (Haupt, Bern, Stuttgart and Wien, 1999).

2

Luterbacher, J., Dietrich, D., Xoplaki, E., Grosjean, M. & Wanner, H. Science 303, 1499–1503 (2004).

3

Jones, P. D. & Mann, M. E. Rev. Geophys. 42, doi:10.1029/2003RG000143 (2004).

4

Le Roy Ladurie, E. Histoire du Climat depuis l'An Mil (Champs Flammarion, Paris, 1983).

5

Robinson, J., Dinsmoor, A. & Smart, R. E. The Oxford Companion to Wine (Oxford University Press, 1999).

6

Briffa, K. R., Jones, P. D. & Schweingruber, F. H. Quat. Res. 30, 36–52 (1988).

7

Renou, E. Ann. Bur. Centr. Météorol. B 195–226 (1887).

8

Manley, G. Q. J. R. Meteorol. Soc. 100, 389–405 (1974).

9

Boehm, R. et al. Int. J. Climatol. 21, 1779–1801 (2001).

10

Schär, C. et al. Nature 427, 332–336 (2004).
Ethics declarations
Competing interests
The authors declare no competing financial interests.
Supplementary information
About this article
Cite this article
Chuine, I., Yiou, P., Viovy, N. et al. Grape ripening as a past climate indicator. Nature 432, 289–290 (2004) doi:10.1038/432289a
Comments
By submitting a comment you agree to abide by our Terms and Community Guidelines. If you find something abusive or that does not comply with our terms or guidelines please flag it as inappropriate.