In paper wasps, facial markings are cheap 'status badges' that would seem to be susceptible to cheating. But wasps punish those whose markings lie. Social competition is, it appears, a strong selective force.
Access options
Subscribe to Journal
Get full journal access for 1 year
$199.00
only $3.90 per issue
All prices are NET prices.
VAT will be added later in the checkout.
Tax calculation will be finalised during checkout.
Buy article
Get time limited or full article access on ReadCube.
$32.00
All prices are NET prices.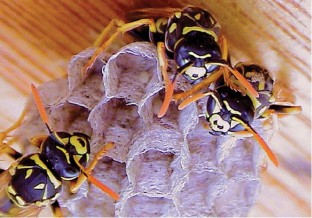 References
Tibbetts, E. A. & Dale, J. Nature 432, 218–222 (2004).

Enteman, W. M. Carnegie Inst. Wash. Publ. 19, 1–88 (1904).

Singer, T. L., Espelie, K. E. & Gamboa, G. J. in Pheromone Communication in Social Insects: Ants, Wasps, Bees, and Termites (eds Vander Meer, R. K., Breed, M. D., Espelie, K. E. & Winston, M. L.) 104–125 (Westview, Boulder, CO, 1998).

Tibbetts, E. A. Proc. R. Soc. Lond. B 269, 1423–1428 (2002).

Pardi, L. Physiol. Zool. 21, 1–13 (1948).

Rohwer, S. Evolution 29, 593–610 (1975).

Senar, J. C. in Proc. 22 Int. Ornithol. Congr. (eds Adams, N. J. & Slotow, R. H.) 1669–1686 (1999).

Dale, J., Lank, D. B. & Reeve, H. K. Am. Nat. 158, 75–86 (2001).

Queller, D. C. et al. Nature 405, 784–787 (2000).

West-Eberhard, M. J. Proc. Am. Phil. Soc. 123, 222–234 (1979).

Paz-y-Miño C, G., Bond, A. B., Kamil, A. C. & Balda, R. P. Nature 430, 778–781 (2004).

Turner, P. E. & Chao, L. Nature 398, 441–443 (1999).
About this article
Cite this article
Strassmann, J. Rank crime and punishment. Nature 432, 160–161 (2004). https://doi.org/10.1038/432160b
Published:

Issue Date:

DOI: https://doi.org/10.1038/432160b
This article is cited by
R. Branconi
D. Baracchi
R. Cervo

Insectes Sociaux (2018)

Francesca Gherardi
Laura Aquiloni
Elena Tricarico

Animal Cognition (2012)

Hisashi Nakao
Edouard Machery

Biology & Philosophy (2012)