Construction workers stumble on archaeological treasure.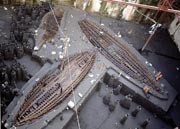 Italian builders have stumbled on the ancient Roman port of Neapolis while digging tunnels for an underground rail system in Naples. Archaeologists have now lifted three ships dating back to the first or second centuries AD to safety, and conservators are working on how to preserve this unusual treasure.
Workers found the first of the three wooden ships in January, buried near the Piazza del Municipio. The largest, which is 13.5 metres long and weighs some 25 tonnes, was removed by crane earlier this month. All are now stored in a climate-controlled facility in Piscinola.
Researchers have long wanted to examine this ancient port. The harbour was abandoned at the end of the Roman empire, after which it gradually silted up; it had disappeared by the fourth century. This process created an airless environment which has kept the wooden ships in good condition, say researchers.
Historians expect an analysis of the wood to reveal something of the ancient climate and flora of the area. The cargo indicates how important Naples was for trade with the East. "Amazingly, the ships emerged with their entire cargo," says Daniela Giampaola, an archaeologist from Naples who is in charge of the excavation. Researchers have found ceramic containers of wine and cereals, corked glass perfume bottles and even sailors' shoe soles on the same site.
To protect the wood, conservators have encased the ships in fibreglass and filled these shells with distilled water. Chemists are testing the wood for damaging fungi and bacteria, and will then decide how best to treat it.
The ships will be kept in a room at a controlled temperature and oxygen level, under ultraviolet-filtered light.
Work on the tunnels is restarting, and researchers expect more treasures to appear as it continues.
About this article
Cite this article
Castellani, F. Ancient ships lifted from Naples' railway tunnels. Nature 431, 496 (2004). https://doi.org/10.1038/431496a
Published:

Issue Date:

DOI: https://doi.org/10.1038/431496a