The future for intracellular imaging looks bright with the development of fluorescent probes made entirely of RNA. The cunning design exploits structural attributes of RNA to detect a variety of small molecules.
Your institute does not have access to this article
Access options
Subscribe to Journal
Get full journal access for 1 year
$199.00
only $3.90 per issue
All prices are NET prices.
VAT will be added later in the checkout.
Tax calculation will be finalised during checkout.
Buy article
Get time limited or full article access on ReadCube.
$32.00
All prices are NET prices.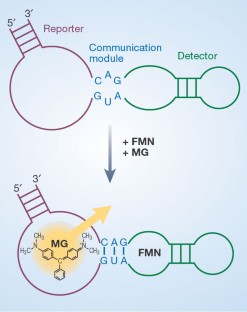 References
Tsien, R. Y. Annu. Rev. Biochem. 67, 509–544 (1998).

Zhang, J., Campbell, R. E., Ting, A. Y. & Tsien, R. Y. Nature Rev. Mol. Cell Biol. 3, 906–918 (2002).

Stojanovic, M. N. & Kolpashchikov, D. M. J. Am. Chem. Soc. 126, 9266–9270 (2004).

Hermann, T. & Patel, D. J. Science 287, 820–825 (2000).

Silverman, S. K. RNA 9, 377–383 (2003).

Grate, D. & Wilson, C. Proc. Natl Acad. Sci. USA 96, 6131–6136 (1999).

Babendure, J. R., Adams, S. R. & Tsien, R. Y. J. Am. Chem. Soc. 125, 14716–14717 (2003).

Huizenga, D. E. & Szostak, J. W. Biochemistry 34, 656–665 (1995).

Jenison, R. D., Gill, S. C., Pardi, A. & Polisky, B. Science 263, 1425–1429 (1994).

Burgstaller, P. & Famulok, M. Angew. Chem. Int. Edn 33, 1084–1087 (1994).

Bartel, D. P. & Chen, C. Z. Nature Rev. Genet. 5, 396–400 (2004).

Hartig, J. S., Grüne, I., Najafi-Shoushtari, S. H. & Famulok, M. J. Am. Chem. Soc. 126, 722–723 (2004).
About this article
Cite this article
Famulok, M. Green fluorescent RNA. Nature 430, 976–977 (2004). https://doi.org/10.1038/430976a
Published:

Issue Date:

DOI: https://doi.org/10.1038/430976a
Further reading
Wilfredo Colón
Parag Chitnis
Joanne S Tornow

Nature Chemical Biology (2008)

Miki Hirabayashi
Hirotada Ohashi
Tai Kubo

Natural Computing (2008)