Royal Society recommends precautionary approach to nanotechnology
Manufactured nanoparticles should be treated as dangerous until proven harmless, according to Britain's Royal Society and Royal Academy of Engineering. And that requires an overhaul of safety regulations both in and outside the laboratory, they say.
The two organizations were asked to examine the safety of nanotechnology by the UK government. Their report, published on 29 July, calls for the law to recognize something scientists already acknowledge: substances that are safe in large quantities can be dangerous when reduced to particles on the scale of a billionth of a metre.
"Where particles are concerned, size really does matter," says Ann Dowling, a mechanical engineer at the University of Cambridge and chair of the group that produced the report.
No one yet knows whether any particular nanoparticles can harm human or environmental health. But there are hints that large doses of some particles can be dangerous to animals, and a study soon to be published shows that inhaled carbon nanoparticles can make their way to the brain (G. Oberdörster Inhalation Toxicol. in the press).
Nanoparticles are already present in a range of materials, from engine exhaust fumes to sunscreens. Analysts predict that the use of nano-sized tubes and wires will have a big impact on many future products, from drug delivery systems to next-generation computer chips.
The report says that any use of manufactured nanoparticles should be assessed by dedicated scientific panels, operating alongside the regulatory bodies that currently assess the safety of chemicals. All the data should be made public, the authors add.
They also call for researchers to use fume hoods and other protection when handling the particles. Dowling says that many scientists already take such measures, but adds that some labs are currently unaware of the potential dangers.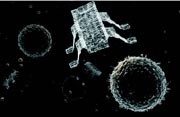 Nano-danger? The environmental and health effects of nanoparticles are unknown.
Credit: C. DARKIN/SPL
Dowling's panel also wants Britain's research councils — the main source of UK grants for basic research — to create a research centre dedicated to the study of environmental and human-health aspects of nanoparticles. The centre and associated research projects, which would cost £6 million (US$11 million) a year to run, would look at the behaviour of nanoparticles in air, water and soil, as well as in cells.
The authors did not go as far as some environmental groups wanted. The ETC Group, based in Ottawa, Canada, for example, has called for a moratorium on nanotechnology research until more is known. But the group welcomed the report's precautionary tone, describing it as the "clearest recognition yet" of the need for new regulations.
Related links
Related links
Related links in Nature Research
Related external links
Rights and permissions
To obtain permission to re-use content from this article visit RightsLink.
Further reading
Nature Reviews Neuroscience (2006)
Comments
By submitting a comment you agree to abide by our Terms and Community Guidelines. If you find something abusive or that does not comply with our terms or guidelines please flag it as inappropriate.