Ignacio Chapela gets good news on his appeal
The academic rights of an ecologist at the University of California, Berkeley, may have been violated when he was denied tenure last year, according to a report from the academic senate.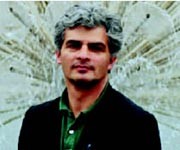 Ignacio Chapela: his appeal over being denied tenure is ongoing.
Credit: I. CHAPELA
Ignacio Chapela was an outspoken critic of Berkeley's controversial academic–industrial partnership with the Swiss agribiotech firm Syngenta, which ended last year (see right). He was also the lead author of a disputed paper in Nature in which he asserted that genes from genetically modified crops had flowed into Mexican maize, and had become scattered throughout the genome (D. Quist and I. H. Chapela Nature 414, 541–543; 2001). After a storm of criticism about the paper, Nature withdrew its support for the article, but the authors stand by their research.
Against this background, Chapela was denied tenure at Berkeley's College of Natural Resources in November 2003 (see Nature 426, 591; 2003). He appealed.
The resulting report, issued on 28 June, claims that Jasper Rine, a geneticist at the university who sat on a key committee reviewing Chapela's tenure, had conflicts of interest. It says that Rine had financial dealings with biotech firms, oversaw the Syngenta agreement and had cited Chapela's Nature paper as an example of poor science in one of his classes. Both the dean of Chapela's college and his department chair requested that Rine be taken from the committee four times; but Rine did not excuse himself nor did the committee chair ask him to leave. The report also says there was "unjustifiable" delay in the tenure-review process.
"I am glad the senate is able to rise to the occasion," says Chapela, whose contract has been extended while he appeals. Rine, Berkeley administrators and senate members would not comment on the report, citing its confidentiality. Such committee reports are rarely disclosed.
As the senate continues its inquiry, Chapela is hoping for a second tenure review. He has also filed two claims that may precede a lawsuit. In April, he accused the university of discrimination, saying that he was denied tenure because he is Hispanic. Early last month, he claimed he was victimized by the university for speaking out against the Syngenta deal.
Related links
Related links
Related links in Nature Research
Related external links
Rights and permissions
To obtain permission to re-use content from this article visit RightsLink.
Further reading
Nature (2005)

Nature (2005)
Comments
By submitting a comment you agree to abide by our Terms and Community Guidelines. If you find something abusive or that does not comply with our terms or guidelines please flag it as inappropriate.