Two investigations into bat echolocation provide striking examples of the sophistication and the possible evolutionary and ecological consequences of variability in call design.
Access options
Subscribe to Journal
Get full journal access for 1 year
$199.00
only $3.90 per issue
All prices are NET prices.
VAT will be added later in the checkout.
Tax calculation will be finalised during checkout.
Buy article
Get time limited or full article access on ReadCube.
$32.00
All prices are NET prices.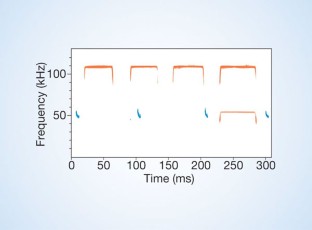 References
Griffin, D. R. Listening in the Dark (Yale Univ. Press, New Haven, 1959).

Galambos, R. & Griffin, D. R. Anat. Rec. 78, 95 (1940).

Thomas, J., Moss, C. & Vater, M. (eds) Echolocation in Bats and Dolphins (Univ. Chicago Press, 2004).

Kingston, T. & Rossiter, S. J. Nature 429, 654–657 (2004).

Siemers, B. M. & Schnitzler, H. -U. Nature 429, 657–661 (2004).

Simmons, J. A. & Stein, R. A. J. Comp. Physiol. A 135, 61–84 (1980).

Barratt, E. M. et al. Nature 387, 138–139 (1997).

von Helversen, D. & von Helversen, O. Nature 398, 759–760 (1999).

Pye, J. D. Nature 218, 797 (1968).

Fullard, J. H. in Comparative Hearing: Insects (eds Hoy, R. R., Popper, A. N. & Fay, R. R.) 279–326 (Springer, New York, 1998).

Simmons, N. B. & Geilser, J. H. Bull. Am. Mus. Nat. Hist. 235, 1–182 (1998).
About this article
Cite this article
Fenton, B., Ratcliffe, J. Eavesdropping on bats. Nature 429, 612–613 (2004). https://doi.org/10.1038/429612a
Issue Date:

DOI: https://doi.org/10.1038/429612a
Further reading
Reyna Leticia Moyers Arévalo
Lucila I. Amador
Norberto P. Giannini

Journal of Mammalian Evolution (2020)

James H. Fullard
John M. Ratcliffe
Cassandra Guignion

Journal of Comparative Physiology A (2005)