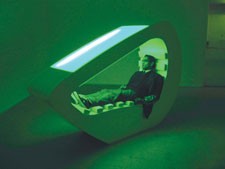 Frazzled by the frenetic lifestyle of the future? No problem, a luxury lounge bathed in soft, calming bioluminescence will soothe your worries away. That's the art concept created by Sydney-based microbiologist Kathy Takayama and artist John Nicholson, who unveiled their exhibit — entitled LuxCorp — at the Canberra Contemporary Art Space on 14 May.
With their prototype light-emitting furniture (right), they present a vision of a future in which human–bacterial interactions are taken to a new dimension. The light emitted is a simulation of the bioluminescent by-product of bacterial communication. The exhibit is part of Metis, the Australian festival of art meets science, and runs until 18 June.
Comments
By submitting a comment you agree to abide by our Terms and Community Guidelines. If you find something abusive or that does not comply with our terms or guidelines please flag it as inappropriate.