These migratory animals have their own equivalent of a global positioning system.
Abstract
Migratory animals capable of navigating to a specific destination, and of compensating for an artificial displacement into unfamiliar territory, are thought to have a compass for maintaining their direction of travel and a map sense that enables them to know their location relative to their destination1. Compasses are based on environmental cues such as the stars, the Sun, skylight polarization and magnetism2, but little is known about the sensory mechanism responsible for the map sense3,4. Here we show that the green sea-turtle (Chelonia mydas) has a map that is at least partly based on geomagnetic cues.
Access options
Access options
Subscribe to Journal
Get full journal access for 1 year
$199.00
only $3.90 per issue
All prices are NET prices.
VAT will be added later in the checkout.
Rent or Buy article
Get time limited or full article access on ReadCube.
from$8.99
All prices are NET prices.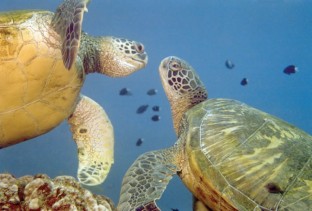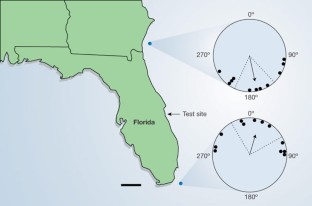 References
1

Able, K. P. J. Avian Biol. 32, 174–183 (2000).

2

Gould, J. L. Curr. Biol. 8, R731–R738 (1998).

3

Wiltschko, R. & Wiltschko, W. Anim. Behav. 65, 257–272 (2003).

4

Avens, L. & Lohmann, K. J. J. Exp. Biol. (in the press).

5

Lohmann, K. J. & Lohmann, C. M. F. in Loggerhead Sea Turtles (eds Bolten, A. B. & Witherington, B. E.) 44–62 (Smithsonian Institution Press, Washington, 2003).

6

Avens, L., Braun-McNeill, J., Epperly, S. & Lohmann, K. J. Mar. Biol. 143, 211–220 (2003).

7

Limpus, C. J. et al. Wildl. Res. 19, 347–358 (1992).

8

Lohmann, K. J., Hester, J. T. & Lohmann, C. M. F. Ethol. Ecol. Evol. 11, 1–23 (1999).

9

Gould, J. L. Nature 296, 205–211 (1982).

10

Lohmann, K. J. & Lohmann, C. M. F. J. Exp. Biol. 194, 23–32 (1994).
Ethics declarations
Competing interests
The authors declare no competing financial interests.
Comments
By submitting a comment you agree to abide by our Terms and Community Guidelines. If you find something abusive or that does not comply with our terms or guidelines please flag it as inappropriate.