Can we ever hope to pin down the genetic changes that underlie the big steps in evolution? Possibly so, if a study of the variation in the pelvic fins of sticklebacks is anything to go by.
Access options
Subscribe to Journal
Get full journal access for 1 year
$199.00
only $3.90 per issue
All prices are NET prices.
VAT will be added later in the checkout.
Tax calculation will be finalised during checkout.
Buy article
Get time limited or full article access on ReadCube.
$32.00
All prices are NET prices.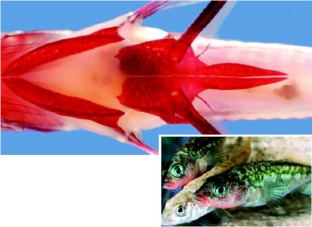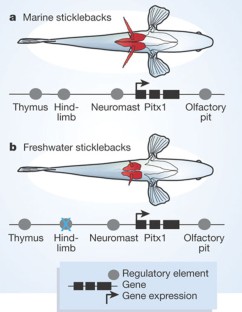 References
Darwin, C. On The Origin of Species (Murray, London, 1859).

Shapiro, M. D. et al. Nature 428, 717–723 (2004).

Morse, E. S. Ann. Lyceum Nat. Hist. NY 10, 141–158 (1872).

Lande, R. Evolution 32, 73–92 (1978).

Lanctôt, C. et al. Development 126, 1805–1810 (1999).

Szeto, D. P. et al. Genes Dev. 13, 484–494 (1999).

Marcil, A. et al. Development 130, 45–55 (2003).

Carroll, S. B. Cell 101, 570–580 (2000).

Levine, M. & Tjian, R. Nature 424, 147–151 (2003).

Mundy, N. I. et al. Science 303, 1870–1873 (2004).

Colosimo, P. F. et al. PLoS Biol. doi:10.1371/journal.pbio.0020109

Gould, S. J. The Structure of Evolutionary Theory (Harvard Univ. Press, Cambridge, MA, 2002).
About this article
Cite this article
Shubin, N., Dahn, R. Lost and found. Nature 428, 703–704 (2004). https://doi.org/10.1038/428703a
Issue Date:

DOI: https://doi.org/10.1038/428703a
Further reading
Joseph E. Hannon Bozorgmehr

Theory in Biosciences (2014)

Rolf Rutishauser
Philip Moline

Theory in Biosciences (2005)