This tiny bird has a neat trick to trap flies in mid-air with its long nectar-seeking beak.
Abstract
The upper jaws of birds, unlike those in many tetrapods, move relative to the skull and are often flexible along their length, whereas the lower jaw (mandible) is usually a rigid structure formed by the fusion of several bones, flexing only where it meets the skull. Here we describe a previously unnoticed mandibular bending movement in hummingbirds, in which the distal half of the mandible is actively flexed downwards and the gape widens to catch flying insects. The hummingbird is thought to have developed a long narrow bill as it specialized in feeding on floral nectar, but the bird's need to supplement its diet with insects must have contributed to the surprising flexibility of its jaw.
Access options
Access options
Subscribe to Journal
Get full journal access for 1 year
$199.00
only $3.90 per issue
All prices are NET prices.
VAT will be added later in the checkout.
Rent or Buy article
Get time limited or full article access on ReadCube.
from$8.99
All prices are NET prices.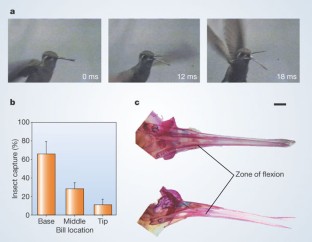 References
1

Altshuler, D. L. & Clark, C. J. Science 300, 588–589 (2003).

2

Baker, H. G. & Baker, I. in Biochemical Aspects of Evolutionary Biology (ed. Nitecki, M. H.) 131–171 (Chicago Univ. Press, Chicago, 1982).

3

Brice, A. T. & Grau, R. G. Physiol. Zool. 64, 611–626 (1991).

4

Storer, R. W. in Avian Biology (eds Farner, D. S. & King, J. R.) 150–188 (Academic, New York, 1971).

5

Fitzpatrick, J. W. in Ornithological Monographs 447–470 (American Ornithologists' Union, 1983).

6

Bühler, P. Z. Morphol. Tiere 66, 337–399 (1970).

7

Bühler, P. in Form and Function in Birds (eds King, A. S. & McLelland, J.) 439–468 (Academic, London, 1981).

8

Zusi, R. L. in The Skull: Patterns of Structural and Systematic Diversity (eds Hanken, J. & Hall, B. K.) 391–437 (Chicago Univ. Press, Chicago, 1993).
Ethics declarations
Competing interests
The authors declare no competing financial interests.
Supplementary information
Video sequence of hummingbird flying with open jaws (MP4 235 kb)
Comments
By submitting a comment you agree to abide by our Terms and Community Guidelines. If you find something abusive or that does not comply with our terms or guidelines please flag it as inappropriate.