Abstract
Theory indicates that correlated weather may synchronize populations1, but the extent to which this holds for non-identical, nonlinear systems is uncertain. Post and Forchhammer2 claim to have shown climate-induced synchrony for musk oxen and caribou that are separated by the Greenland ice sheet. However, logical and mathematical errors undermine their finding. Whether or not large-scale weather can be a major synchronizing factor across species remains an open question.
Access options
Subscribe to Journal
Get full journal access for 1 year
$199.00
only $3.90 per issue
All prices are NET prices.
VAT will be added later in the checkout.
Rent or Buy article
Get time limited or full article access on ReadCube.
from$8.99
All prices are NET prices.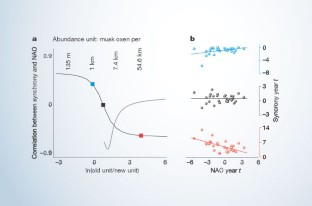 References
1

Moran, P. A. P. Aust. J. Zool. 1, 291–298 (1953).

2

Post, E. & Forchhammer, M. C. Nature 420, 168–171 (2002).

3

Hurrell, J. W. Science 269, 676–679 (1995).

4

Forchhammer, M. C., Post, E., Stenseth, N. C. & Boertmann, D. M. Population Ecol. 44, 113–120 (2002).
About this article
Cite this article
Vik, J., Stenseth, N., Tavecchia, G. et al. Living in synchrony on Greenland coasts?. Nature 427, 697–698 (2004). https://doi.org/10.1038/427697a
Comments
By submitting a comment you agree to abide by our Terms and Community Guidelines. If you find something abusive or that does not comply with our terms or guidelines please flag it as inappropriate.