Organ development requires precise regulation of both the total number and the different types of cells. Much is known about how each process is controlled, but new light has been shed on how the two are linked.
Access options
Subscribe to Journal
Get full journal access for 1 year
$199.00
only $3.90 per issue
All prices are NET prices.
VAT will be added later in the checkout.
Tax calculation will be finalised during checkout.
Buy article
Get time limited or full article access on ReadCube.
$32.00
All prices are NET prices.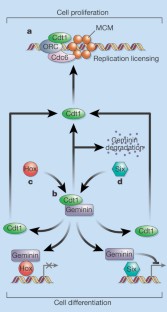 References
Del Bene, F., Tessmar-Raible, K. & Wittbrodt, J. Nature 427, 745–749 (2004).

Luo, L., Yang, X., Takihara, Y., Knoetgen, H. & Kessel, M. Nature 427, 749–753 (2004).

Bell, S. P. & Dutta, A. Annu. Rev. Biochem. 71, 333–374 (2002).

Tada, S., Li, A., Majorano, D., Mechali, M. & Blow, J. J. Nature Cell Biol. 3, 107–113 (2001).

Wohlschlegel, J. A. et al. Science 290, 2309–2312 (2000).

Krumlauf, R. Cell 78, 191–200 (1994).

Orlando, V. Cell 112, 599–606 (2003).

Li, X., Perissi, V., Liu, F., Rose, D. W. & Rosenfeld, M. G. Science 297, 1180–1183 (2002).

Lagutin, O. V. et al. Genes Dev. 17, 368–379 (2003).

Kroll, K. L., Salic, A. N., Evans, L. M. & Kirschner, M. W. Development 125, 3247–3258 (1998).

McGarry, T. J. & Kirschner, M. W. Cell 93, 1043–1053 (1998).
About this article
Cite this article
Li, X., Rosenfeld, M. Origins of licensing control. Nature 427, 687–688 (2004). https://doi.org/10.1038/427687a
Issue Date:

DOI: https://doi.org/10.1038/427687a