Changes in the amount of solar energy reaching Earth account for certain climate cycles at high and low latitudes. Surprisingly, the effects of a high-latitude cycle evidently reached into the tropics.
This is a preview of subscription content
Access options
Subscribe to Journal
Get full journal access for 1 year
$199.00
only $3.90 per issue
All prices are NET prices.
VAT will be added later in the checkout.
Tax calculation will be finalised during checkout.
Buy article
Get time limited or full article access on ReadCube.
$32.00
All prices are NET prices.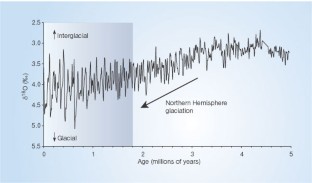 References
Milankovitch, M. Serb. Akad. Beogr. Spec. Publ. 132 (1941).

Hays, J. D. et al. Science 194, 1121–1132 (1976).

Berger, A. L. J. Atmos. Sci. 35, 2362–2367 (1978).

Liu, Z. & Herbert, T. D. Nature 427, 720–723 (2004).

Wefer, G., Berger, W. H., Bijma, J. & Fischer, G. in Use of Proxies in Paleoceanography (eds Fischer, G. & Wefer, G.) 1–68 (Springer, Berlin, 1999).

Emeis, K. C., Doose, H., Mix, A. & Schulz-Bull, D. Proc. ODP Sci. Results 138, 605–614 (1995).

Sikes, E. & Keigwin, L. D. Paleoceanography 9, 31–45 (1994).

Sachs, J. P. & Lehman, S. J. Science 286, 756–759 (1999).

Driscoll, N. W. & Haug, G. H. Science 282, 436–438 (1998).

Cane, M. A. & Molnar, P. Nature 411, 157–162 (2001).

Philander, S. G. H. & Fedorov, A. V. Paleoceanography 18, 10.1029/2002PA000837 (2003).

Mix. A. et al. Proc. ODP Sci. Results 138, 371–412 (1995).
About this article
Cite this article
Billups, K. Low-down on a rhythmic high. Nature 427, 686–687 (2004). https://doi.org/10.1038/427686a
Issue Date:

DOI: https://doi.org/10.1038/427686a