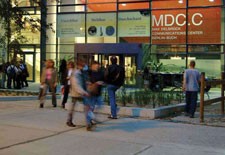 Biologists at one of Berlin's leading biomedical research centres have been told to prepare for a 12% pay cut. Unions representing 700 staff at the Max Delbrück Center for Molecular Medicine (MDC) say that they will fight the cut in the courts.
Berlin's government and the federal research ministry, which finance the centre jointly, say that the city's fiscal crisis leaves them no choice but to make the cut. Facing a yawning budget deficit, Berlin decided last August to cut the salaries of its public employees in exchange for a shorter working week and guaranteed jobs until 2009.
The capital's three universities and some other research institutes were exempted, but the MDC was not. The federal research ministry approved the pay cuts at the beginning of this month.
Staff are not amused. They say that, as researchers, they are unlikely to benefit from cuts in their hours. And the guarantee of employment doesn't help, as they are nearly all on five-year, fixed-term contracts.
"I don't know how my family could cope with 12% less per month," says Thomas Müller, a postdoctoral fellow studying developmental biology at the centre. Udo Heinemann, a crystallographer there, adds that lower salaries will make it hard for the centre to attract staff.
As a compromise, the research ministry has suggested giving MDC employees the same terms as other public workers in eastern Germany. This would result in a 7.5% pay cut, but no reduction in the working week. Marion Bimmler, who chairs the staff council of the MDC, compares this to "choosing between plague and cholera".
Bimmler says the unions are advised that the pay cut is illegal. But court action could last for more than a year, and the new terms are taking effect immediately.
About this article
Cite this article
Wellmann, A. Berlin biologists outraged by imminent pay cut. Nature 427, 666 (2004). https://doi.org/10.1038/427666b
Comments
By submitting a comment you agree to abide by our Terms and Community Guidelines. If you find something abusive or that does not comply with our terms or guidelines please flag it as inappropriate.