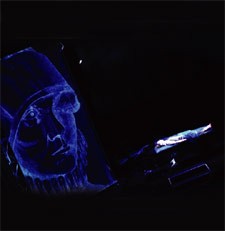 An anatomy lesson delivered over the flayed arm of an executed thief is the inspiration behind Justine Cooper's Tulp, the Body Public, an intimate and confrontational performance event that explores the theme of medical surveillance of the human body.
An Australian currently living in New York, Cooper weaves together a video collage of vox-pop narratives with fragments of baroque opera and contemporary music composed by John Rodgers and performed by ELISION, an Australian new-music ensemble. Tulp premiered last month at the Sydney Festival and will be performed at the Brisbane Festival on 23–25 September 2004.
Cooper collected anecdotes from members of the general public from a booth at the Art Gallery of New South Wales during the month before the performance. As a vehicle to intimacy, the volunteers had vascular ultrasound Doppler recordings taken, before being interviewed about their attitudes to medicine, pain, life and death.
Close-up camera angles of volunteers' faces as they tell their stories capture some visceral experiences: one man's attempt at home surgery using insufficient anaesthetic, a woman's recovery from breast cancer, the torture of treatment for scoliosis, and a grandmother's experiences as a surrogate mother.
The 60-minute multimedia performance, — inspired by Rembrandt's painting The Anatomy Lesson of Dr Nicolaes Tulp — draws on baroque imagery, which is projected onto two giant latex screens on either side of the centre stage. The soft gurgling of the vascular ultrasound recordings is an audio backdrop to the contemporary compositions, periodically interrupted by improvisations in which the musicians 'dissect' their instruments — by analogy with medical interventions. The audio and visual stimulation is overwhelming at times, even to the point of distraction.
The audience is simultaneously watching and being watched. The soprano, who provides a link between the narrative and the music, carries a wireless camera strapped to her wrist. She sometimes directs it at the audience, projecting their images onto the central screen.
About this article
Cite this article
Dennis, C. A visceral experience. Nature 427, 587 (2004). https://doi.org/10.1038/427587a
Comments
By submitting a comment you agree to abide by our Terms and Community Guidelines. If you find something abusive or that does not comply with our terms or guidelines please flag it as inappropriate.