The genome of the microscopic worm Caenorhabditis briggsae has been sequenced, and shows some remarkable differences from the genome of the better known — and physically similar — C. elegans.
Your institute does not have access to this article
Access options
Subscribe to Journal
Get full journal access for 1 year
$199.00
only $3.90 per issue
All prices are NET prices.
VAT will be added later in the checkout.
Tax calculation will be finalised during checkout.
Buy article
Get time limited or full article access on ReadCube.
$32.00
All prices are NET prices.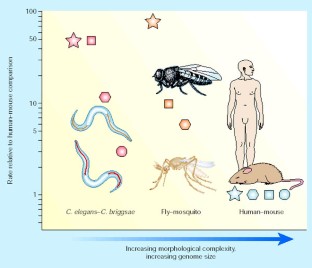 References
Wood, W. B. (ed.) The Nematode Caenorhabditis elegans (Cold Spring Harbor Lab. Press, New York, 1988).

The C. elegans Genome Sequencing Consortium Science 282, 2012–2018 (1998).

Stein, L. D. et al. PLoS Biol. 1, 166–192 (2003).

Mounsey, A., Bauer, P. & Hope, I. A. Genome Res. 12, 770–775 (2002).

Celniker, S. E. et al. Genome Biol. 3, research0079.1–0079.14 (2002).

International Human Genome Sequencing Consortium Nature 409, 860–921 (2001).

Venter, J. C. et al. Science 291, 1304–1351 (2001).

Mouse Genome Sequencing Consortium Nature 420, 520–562 (2002).

Holt, R. A. et al. Science 298, 129–149 (2002).

Kamath, R. S. et al. Nature 421, 231–237 (2003).

Guiliano, D. B. et al. Genome Biol. 3, research0057.1–0057.14 (2002).

Blaxter, M. L. Int. J. Parasitol. 30, 347–355 (2000).
About this article
Cite this article
Blaxter, M. Two worms are better than one. Nature 426, 395–396 (2003). https://doi.org/10.1038/426395a
Issue Date:

DOI: https://doi.org/10.1038/426395a