Many molecules exist in two mirror-image forms, which have different biological properties. A new way of creating solid chiral surfaces might make it easier to synthesize and purify only one of the mirror forms.
Your institute does not have access to this article
Access options
Subscribe to Journal
Get full journal access for 1 year
$199.00
only $3.90 per issue
All prices are NET prices.
VAT will be added later in the checkout.
Tax calculation will be finalised during checkout.
Buy article
Get time limited or full article access on ReadCube.
$32.00
All prices are NET prices.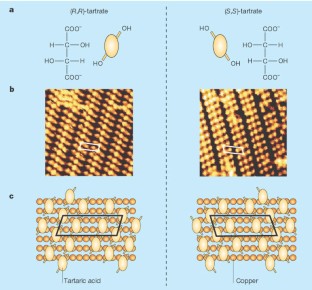 References
Switzer, J. A., Kothari, H. M., Poizot, P., Nakanishi, S. & Bohannan, E. W. Nature 425, 490–493 (2003).

Pasteur, L. Ann. Phys. 24, 442 (1848).

LeBel, J. A. Bull. Soc. Chim. Fr. 22, 337 (1874).

Van't Hoff, J. H. Arch. Neerl. Sci. Exactes Nat. 9, 445 (1874).

Sheldon, R. A. Chirotechnology (Dekker, New York, 1993).

Ortega Lorenzo, M., Baddeley, C. J., Muryn, C. & Raval, R. Nature 404, 376–379 (2000).

Kühnle, A., Linderoth, T. R., Hammer, B. & Besenbacher, F. Nature 415, 891–893 (2002).

Zhao, X. J. Am. Chem. Soc. 122, 12584–12585 (2000).

Addadi, L., Berkovitch-Yellin, Z., Weissbuch, I., Lahav, M. & Leiserowitz, L. Topics Stereochem. 16, 1–85 (1986).

Orme, C. A. et al. Nature 411, 775–779 (2001).
About this article
Cite this article
Raval, R. Mirrors in Flatland. Nature 425, 463–464 (2003). https://doi.org/10.1038/425463a
Issue Date:

DOI: https://doi.org/10.1038/425463a