New work shows that a cage-like matrix of protein fibres around cells can inhibit the growth of tumours. But cancer cells producing the enzyme MT1-MMP can cleave this matrix and proliferate freely.
Your institute does not have access to this article
Access options
Subscribe to Journal
Get full journal access for 1 year
$199.00
only $3.90 per issue
All prices are NET prices.
VAT will be added later in the checkout.
Tax calculation will be finalised during checkout.
Buy article
Get time limited or full article access on ReadCube.
$32.00
All prices are NET prices.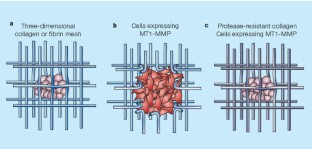 References
Hotary, K. B. et al. Cell 114, 33–45 (2003).

Frisch, S. M. & Screaton, R. A. Curr. Opin. Cell Biol. 13, 555–562 (2001).

Dvorak, H. F., Senger, D. R. & Dvorak, A. M. Cancer Metastasis Rev. 2, 41–73 (1983).

Coussens, L. M., Fingleton, B. & Matrisian, L. M. Science 295, 2387–2392 (2002).

Bissell, M. J. & Radisky, D. Nature Rev. Cancer 1, 46–54 (2001).

Cukierman, E., Pankov, R., Stevens, D. R. & Yamada, K. M. Science 294, 1708–1712 (2001).

Walpita, D. & Hay, E. Nature Rev. Mol. Cell Biol. 3, 137–141 (2002).

Grinnell, F. Trends Cell Biol. 13, 264–269 (2003).

Chen, C. S., Mrksich, M., Huang, S., Whitesides, G. M. & Ingber, D. E. Science 276, 1425–1428 (1997).

Wolf, K. et al. J. Cell Biol. 160, 267–277 (2003).
About this article
Cite this article
Yamada, K. Tumour jailbreak. Nature 424, 889–890 (2003). https://doi.org/10.1038/424889a
Issue Date:

DOI: https://doi.org/10.1038/424889a