Nanoscale chemical patterns written on a substrate can direct the self-assembly of polymer overlayers with remarkable precision. These polymer films, in turn, can be used as templates for nanofabrication.
Access options
Subscribe to Journal
Get full journal access for 1 year
$199.00
only $3.90 per issue
All prices are NET prices.
VAT will be added later in the checkout.
Tax calculation will be finalised during checkout.
Buy article
Get time limited or full article access on ReadCube.
$32.00
All prices are NET prices.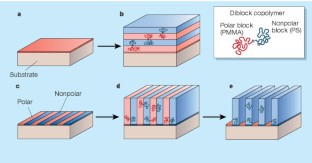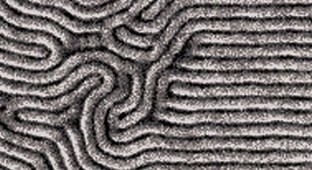 References
Kim, S. O. et al. Nature 424, 411–414 (2003).

Coulon, G., Russell, T. P., Deline, V. R. & Green, P. F. Macromolecules 22, 2581–2589 (1989).

Thurn-Albrecht, T. et al. Science 290, 2126–2129 (2000).

Park, M., Harrison, C., Chaikin, P. M., Register, R. A. & Adamson, D. H. Science 276, 1401–1404 (1997).

Liu, G. et al. Chem. Mater. 11, 2233–2240 (1999).

Morkved, T. L. et al. Science 273, 931–933 (1996).

Segalman, R. A., Yokoyama, H. & Kramer, E. J. Adv. Mater. 13, 1152–1155 (2001).

Cheng, J. Y., Ross, C. A., Thomas, E. L., Smith, H. I. & Vancso, G. J. Appl. Phys. Lett. 81, 3657–3659 (2002).

Harrison, C. et al. Phys. Rev. E 66, 011706 (2002).

Rockford, L. et al. Phys. Rev. Lett. 82, 2602–2605 (1999).

Böltau, M., Walheim, S., Mlynek, J., Krausch, G. & Steiner, U. Nature 391, 877–879 (1998).

Loo, Y.-L, Willett, R. L., Baldwin, K. W. & Rogers, J. A. J. Am. Chem. Soc. 124, 7654–7655 (2003).
About this article
Cite this article
Register, R. On the straight and narrow. Nature 424, 378–379 (2003). https://doi.org/10.1038/424378a
Issue Date:

DOI: https://doi.org/10.1038/424378a