At the junctions between two neurons, the machinery that releases neurotransmitter from one cell must lie near calcium channels and align with detectors in the receiving cell. We now have a better idea how this occurs.
Access options
Subscribe to Journal
Get full journal access for 1 year
$199.00
only $3.90 per issue
All prices are NET prices.
VAT will be added later in the checkout.
Tax calculation will be finalised during checkout.
Buy article
Get time limited or full article access on ReadCube.
$32.00
All prices are NET prices.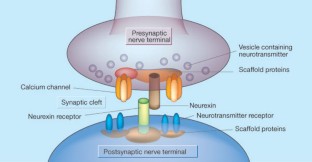 References
Missler, M. et al. Nature 423, 939–948 (2003).

Katz, B. & Miledi, R. Proc. R. Soc. Lond. B Biol. Sci. 161, 496–503 (1965).

Smith, S. J. & Augustine, G. J. Trends Neurosci. 11, 458–464 (1988).

Atlas, D. J. Neurochem. 77, 972–985 (2001).

Ushkaryov, Y. A., Petrenko, A. G., Geppert, M. & Südhof, T. C. Science 257, 50–56 (1992).

Ulrich, B., Ushkaryov, Y. A. & Südhof, T. C. Neuron 14, 497–507 (1995).

Ichtchenko, K. Y. et al. Cell 81, 435–443 (1995).

Sugita, S. et al. J. Cell Biol. 154, 435–445 (2001).

Scheiffele, P., Fan, J., Choih, J., Fetter, R. & Serafini, T. Cell 101, 657–669 (2000).

Garner, C. C., Nash, J. & Huganir, R. L. Trends Cell Biol. 10, 274–280 (2000).
About this article
Cite this article
Littleton, J., Sheng, M. Synapses unplugged. Nature 423, 931–932 (2003). https://doi.org/10.1038/423931a
Issue Date:

DOI: https://doi.org/10.1038/423931a