Abstract
Epidemiological studies suggest that the consumption of green tea may help prevent cancers in humans; also, breast and prostate cancers in animal models are reduced by green, but not black, tea1. Here we offer a possible explanation. We have inferred (using molecular modelling) and subsequently demonstrated that one of the major ingredients of green tea inhibits urokinase, an enzyme crucial for cancer growth.
Access options
Access options
Subscribe to Journal
Get full journal access for 1 year
$199.00
only $3.90 per issue
All prices are NET prices.
VAT will be added later in the checkout.
Rent or Buy article
Get time limited or full article access on ReadCube.
from$8.99
All prices are NET prices.
References
1

Yang, C. S.et al. J. Natl Cancer Inst. 85, 1038–1049 (1993).

2

Stoner, G. D. & Mukhtar, H. J. Cell. Biochem. 22, 169–180 (1995).

3

Fujiki, H.et al. Prev. Med. 21, 503–509 (1992).

4

Harvey, S. R.et al. Clin. Exp. Metastasis 6, 431–450 (1988).

5

Jankun, J., Keck, R. W., Skrzypczak-Jankun, E. & Swiercz, R. Cancer Res. 57, 559–563 (1997).

6

Spargon, G.et al. Structure 3, 681–691 (1995).

7

Achbarou, A.et al. Cancer Res. 54, 2372–2377 (1994).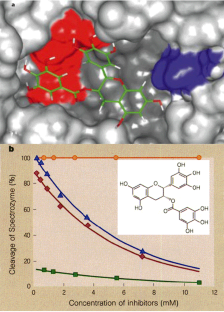 Comments
By submitting a comment you agree to abide by our Terms and Community Guidelines. If you find something abusive or that does not comply with our terms or guidelines please flag it as inappropriate.