A long-term goal of studies of the way in which new species form has been to identify the genes involved, and the forces that drive their evolution. That goal is now being realized — and natural selection plays a major part.
Your institute does not have access to this article
Access options
Subscribe to Journal
Get full journal access for 1 year
$199.00
only $3.90 per issue
All prices are NET prices.
VAT will be added later in the checkout.
Tax calculation will be finalised during checkout.
Buy article
Get time limited or full article access on ReadCube.
$32.00
All prices are NET prices.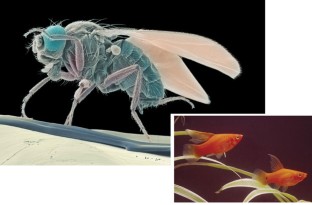 References
Presgraves, D. C., Balagopalan, L., Abmayr, S. M. & Orr, H. A. Nature 423, 715–719 (2003).

Glazier, A. M., Nadeau, J. H. & Aitman, T. J. Science 298, 2345–2349 (2002).

Ting, C.-T, Tsaur, S.-C, Wu, M.-L & Wu, C.-I Science 282, 1501–1504 (1998).

Walter, R. B. & Kazianis, S. ILAR J. 42, 299–321 (2001).

Swanson, W. J. & Vacquier, V. D. Nature Rev. Genet. 3, 137–144 (2002).

Swanson, W. J. & Vacquier, V. D. Annu. Rev. Ecol. Syst. 33, 161–179 (2002).

Barbash, D. A., Siino, D. F., Tarone, A. M. & Roote, J. Proc. Natl Acad. Sci. USA 100, 5302–5307 (2003).
About this article
Cite this article
Noor, M. Genes to make new species. Nature 423, 699–700 (2003). https://doi.org/10.1038/423699a
Issue Date:

DOI: https://doi.org/10.1038/423699a