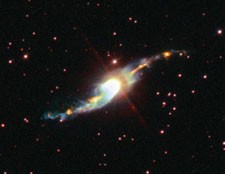 Henize 3-1475 is a planetary nebula — an expanding shell of gas surrounding a star that is entering the last stages of its life (and, in fact, nothing to do with planets at all). The gas shell of such an object may be spherical, dumb-bell-shaped or even completely irregular, but in the case of Henize 3-1475 it is concentrated into two fast-moving jets that emerge with velocities of up to 4 million kilometres per hour. As the system is also rotating, astronomers have nicknamed it the 'garden-sprinkler' nebula.
Angels Riera and colleagues have produced this composite image of Henize 3-1475 using different filters on a wide-field camera that is part of the Hubble Space Telescope. Coupled with observations from ground-based telescopes, their data reveal that the fast outflow of gas from the central star is not regular. Instead, the gas is ejected in clumps, roughly once every hundred years. How the jets are created is still a mystery, but this clumping effect could be caused by interactions with a nearby companion star, or by magnetic processes in the central star (similar to the 22-year cycle of magnetic activity that creates sunspots on our own star).
The misnomer 'planetary nebula' was coined by William Herschel in 1784: cataloguing these objects, he was struck by how closely they resembled (viewed through a telescope considerably less powerful than Hubble) the planet he had recently discovered, Uranus.
About this article
Cite this article
Wright, A. Sprinkler system. Nature 423, 492 (2003). https://doi.org/10.1038/423492a
Issue Date:

DOI: https://doi.org/10.1038/423492a