Abstract
Resistance to insecticides among mosquitoes that act as vectors for malaria (Anopheles gambiae) and West Nile virus (Culex pipiens) emerged more than 25 years ago in Africa, America and Europe; this resistance is frequently due to a loss of sensitivity of the insect's acetylcholinesterase enzyme to organophosphates and carbamates1. Here we show that this insensitivity results from a single amino-acid substitution in the enzyme, which we found in ten highly resistant strains of C. pipiens from tropical (Africa and Caribbean) and temperate (Europe) areas, as well as in one resistant African strain of A. gambiae. Our identification of this mutation may pave the way for designing new insecticides.
Access options
Subscribe to Journal
Get full journal access for 1 year
$199.00
only $3.90 per issue
All prices are NET prices.
VAT will be added later in the checkout.
Tax calculation will be finalised during checkout.
Rent or Buy article
Get time limited or full article access on ReadCube.
from$8.99
All prices are NET prices.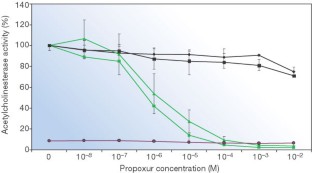 References
1

Toutant, J. P. Progr. Neurobiol. 32, 423–446 (1989).

2

Weill, M. et al. Proc. R. Soc. Lond. B 269, 2007–2016 (2002).

3

Mutéro, A., Pralavorio, M., Bride, J. M. & Fournier, D. Proc. Natl Acad. Sci. USA 91, 5922–5926 (1994).

4

N' Guessan, R. et al. Med. Vet. Entomol. 17, 1–7 (2002).

5

Bourguet, D., Pasteur, N., Bisset, J. & Raymond, M. Pest. Biochem. Physiol. 55, 122–128 (1996).
Ethics declarations
Competing interests
The authors declare no competing financial interests.
Supplementary information
About this article
Cite this article
Weill, M., Lutfalla, G., Mogensen, K. et al. Insecticide resistance in mosquito vectors. Nature 423, 136–137 (2003). https://doi.org/10.1038/423136b
Comments
By submitting a comment you agree to abide by our Terms and Community Guidelines. If you find something abusive or that does not comply with our terms or guidelines please flag it as inappropriate.